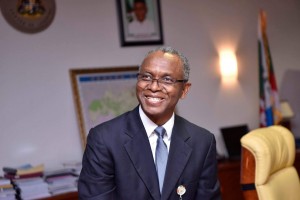 Nasir El-Rufai; Politician, first renowned for being part of the core five figures of President Obasanjo's economic team that delivered NEEDS in a period, 2003-2007, which recorded the fastest rates of economic growth in Nigeria's history. From a background of private practice in quantity surveying, El Rufai first came into public service with the appointment by General Abdulsalami Abubakar in 1998 into a transition think tank, through the recommendation of brother, Bashir El Rufai's business partner who was in-law to the new Head of State. It was in this position he met Obasanjo who appointed him first as Director General of the Bureau of Public Enterprise, BPE and later in September 2003 to restore the Federal Capital Territory, FCT, the masterplan of which had been violated overtime mostly by physical distortions. In less than one year after transition of power to President Yar'Adua, Economic and Financial Crimes Commission, EFCC, in what appears to be its first definite pronouncement under the chairmanship of Mrs. Farida Waziri, commenced the process to extradite him from self-exile in a case of abuse of office[i]. El Rufai returned to Nigeria four days before Yar'Adua's demise in 2009.
In 2015, El Rufai won an election to become governor of Kaduna State. In this position, he rolled out the Zaria Water Works. Though it was winded down midway for review his school feeding programme is well commended as well as his decision to run a transparent budget, open to the review of Budgit, an independent budget monitoring group. His failures however are in the security of the state as Southern Kaduna crisis persists[ii]. El Rufai was elected to a second term in 2019.
Origin
Father, Mallam Ahmad Rufai Muhammad was a junior agriculture officer in Daudawa village in Kaduna State. His mother was the pesant's third wife, who unlike her self-educated husband became limited with the death of Ahmad in 1967.
Places of Growth
Nasir El Rufai was born in February 16, 1960. Daudawa during his infancy, was a little town overridden by poverty with children seldom making it beyond the primary school. Nasir enrolled in Barewa College in January 1972 where for the next four and a half years he would make his life's most enduring friendships.
Family
Nasir met his first wife Hadiza Isma, an architect in Ahmadu Bello University, ABU in 1976 and they got married in Kaduna in 1985. A second wife followed in 1999. His first child, Yasmin died in 2011.
 
Education
As a good science student in the Barewa College, El Rufai elected to study Quantity Surveying in ABU against his elderly cousin's expectation of a career in medicine for him. He graduated with a first class honours in 1980 and also passed the qualifying examination of the Institute  of Quantity Surveyors of the UK in 1981. El Rufai was at Harvard for Advanced Management programme in 2002 and graduated MBA in 1984 from ABU.
 
Career
El Rufai's first job after National Youth Service Corps was with the New Nigeria Construction Company where he was assigned to Teaching Hospital project site in Zaria. After just six months he resigned and worked as an individual consultant to firms which afforded him a visit to the future Nigerian capital in 1981. The first job which his quantity surveying consulting firm which was registered in 1982 got was the First Bank Sokoto branch. This firm which he created with three other friends grew to be the largest in Nigeria within its niche.
Political
A day after General Abacha's death, El Rufai was invited by the succeeding government to the late dictator to be part of new Head of State, General Abdulsalami Abubakar's  team to help think through and design a social, economic, and political transition programme for the administration. While on this job as one of the six personnels of Abdulsalma's Programme Implementation and Monitoring Committee, PIMPCO, he met President-elect Olusegun Obasanjo, whose government he latter joined at 1999 ending as Director-General of the Bureau of Public Enterprise, BPE, at the age of 39.
Public Service
BPE
El Rufai headed the Bereau of Public Enterprise with a mandate to oversee privatization of some underperforming government assets but President Obasanjo under whom he served was half-convinced at first about hiw own agenda. Against Nasir's recommendation, the near comatose Nigerian Airways was not put up for sale and much to his vindication, he corporation with its two functional planes seized operations in 2003. NITEL, the nation's telephone monopoly gavs a GSM contract to Ericsoon.
FCT
His frequent estrangement with his principal nonetheless, El Rufai was nominated by President Obasanjo at the start of his second term as minister of the FCT, the position in which he became known to many Nigerians. Over the course of four years, he took down 900 buildings, most of them sitting on utility lines. Sanity was restored also to the oldest market in the city, Wuse, erstwhile notorious for disorderliness[iii].
[i] Westerner, May 18, 2009.
[ii] Premium Times, December 20, 2016
[iii] The Accidental Public Servant, Nasir El Rufai, 2013