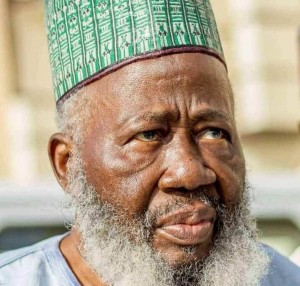 Mustapha Akanbi; Nigerian judge of the Federal High Court, later president of the Court of Appeal, renowned for good records and deep sense of history. Three years to the expiration of his tenure as the president of the court of appeal, Akanbi, to the consternation of many Nigerians, resigned in 1999. As the grey-haired judge was planning to retire to his modest home in Ilorin, President Obasanjo appointed him the chairman of the Independence Corrupt Practices and Other Related Offence Commission, ICPC. As chair of the ICPC, Akanbi was accused of being flat-footed to act, as majority of the culprits are said to be sacred cows. He admits his ICPC did too little in arresting corruption and blamed the government for lack of will to help the commission he headed with its job[i].
Justice Mustapha Akanbi was born in Accra, Ghana on September 11, 1932[ii]. He was an indigene of Ilorin, Kwara State. Having gathered some pedigree at a young age he veered into Ghanaian politics, and he was fairly successful in the Convention Peoples Party, CPP, of Ghana's Kwame Nkrumah. However, when there was a political upheaval In the old Gold Coast, Akanbi, who was then an executive officer in the Ghanaian civil service looked for an exit. With a lot of effort a scholarship to study Law abroad came his way and a chance to join the City Council Service in Nigeria. He fled Ghana and later joined the Nigerian civil service where he equally distinguished himself. Akanbi retired to private practice as the people's lawyer. On several occasions, he defended the poor free of charge. Some years later, Akanbi was called to the nation's bench.
When the 1986 students' crisis reared its head in the land, Akanbi was called upon to head the universities' probe panel that year. Years later, he headed the commission of enquiry on the ailing National Fertilizer Company, NAFCON. He also acted as a sanitiser that revamped the crisis-ridden Nigerian Bar Association, NBA, after its Port Harcourt debacle. In 2003, Akanbi travelled to Mexico to sign an international pact on anti-corruption on behalf of  President Obasanjo and returned in December that year to start the prosecution of  the most celebrated case before the commission he chaired since it came into existence in 2000; Sunday Afolabi, bossom friend of the president who was implicated in a bribery saga by Niyi Adelegan, the Nigerian business partner of SAGEM South Africa, which was executing the 22- year-old National Identity Card Scheme[iii].
[i] Insider July 5, 2004
[ii] TELL September 15, 2003
[iii] TELL December 22, 2003