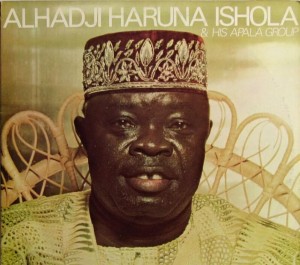 Haruna Ishola; one of the most popular artistes of the Apala genre of music in his day was born in 1919 in Ijebu-Igbo.  Haruna Ishola started music early, and moved with time and trend, following whichever way the wind of music blew. He released his debut album in 1948 titled, Orimolusi Adeboye: The Oba of Ijebu-Igbo. The Apala music started as a result of evolution in the music  played to rouse the faithful after Ramadan, and developed themselves each time they played, till they created the Apala, and Haruna Ishola joined in the early 50's. In 1955, he had begun playing the Apala as well, but became exceptionally good at what he did, soon he became famous for his unique way of praise singing. His traditionalist approach of citing Yoruba proverbs as well as koranic scriptures carved a spectacular niche for him.
Ishola never introduced western instruments to his musical line-up, he would sit when performing surrounded by two Gangan (talking drum), Agogo (bells) shakers, akuba (conga-like drums) a chorus of singers, agidigbo (Lamellaphone, thumb piano). Ishola continued his music and journey to stardom up until the 1960's he released albums under Decca records then he later found his own record label, Star Records Ltd in partnership with Juju music legend I.K Dairo, here he recorded albums and songs such as; Oluwa nikan l'oba, Oro buruku oni soju  wa, Eniti Olorun se fun, amongst others. This record label also and accommodated less fortunate musicians who needed guidance and financial help. It is known as the first African record label owned by its artists. He was known for his philanthropy, and commitment to socio-economic development of the country.
Haruna Ishola released over over a 100 albums in his two decade career, his album Oroki Social Club, Osogbo, released in 1971, sold more than five million copies from 1971-1983. Haruna Ishola remains one of the most influential and established artist in the history of not only Yoruba music, his name is synonymous with the Apala music, and he himself is likened to David of the bible with his repertoire of historic tales, philosophical explorations and praise songs and was also known for lengthy shows which ranged from 4 to 10 hours. Although, Ishola was not literate, he achieved so much in the establishing of the Nigerian music industry as we know it today. Haruna Ishola's songs like Soyoyo, Ina Ran amongst other are still enjoying good air play 30 years after his death in 1983. Ishola had several children some of which have taken over from where he stopped.