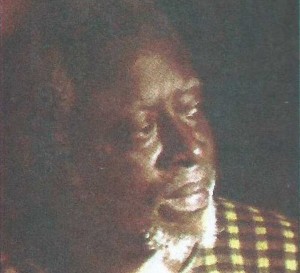 Moses Olaiya; a.k.a. Baba Sala, regarded in his heydey as the father of Nigerian comedy, alongside other dramatists like Hubert Ogunde, Kola Ogunmola, Oyin Adejobi and Duro Ladipo. Before he ventured into acting, Adejumo performed highlife music in 1960. He joined a group known as the Federal Rhythm Dandies in 1964, where he tutored and guided King Sunny Ade, the juju music maestro, who was his lead guitar player. Adejumo Baba Sala ventured into comedy and acting in the early 70s, when he displayed his talent at thrilling his audience with his comedy plays with his Alawada Group International Limited[i]. Obafemi Awolowo had thought him to be a youngman when they met in his Yemetu, Ibadan house, for the costume used to create his stage identity was eager to meet him many years before[ii].
Places of Growth
Moses Olaiya was born in 1937 by Adejumo Abogunloko in Iloka, Ilesa, Osun State. He attended elementary schools in Oke-Ese, Ilesa 1946-1949, and St. Luke's, Jos, 1950-1953. His secondary school education was at Obokun Boys High School now Obokun High School, Ilesa between 1954-59[iii].
Childhood
Already exposed to the life of Drama, Moses Adejumo waited one year after his secondary school education in 1959 to start a career as an entertainer.  He formed a juju music band.
Family
Moses Olaiya is married with four wives and he adduces his polygamy to exigencies of his theatre business. His wives are actresses and their many children are professionals of different industries.
Life
Moses Adejumo played music for five years. Legendary musician Sunny Ade joined him as a band boy in 1963 and left in 1966 to be on his own. His first play titled Uh Die, gave him the name by which he is popularly known: Baba Sala.
Things started falling apart for him when he borrowed more than N1.5 million from a bank to boost his theatre business. The business did not see the light of the day because he was cheated out of it by pirates. He suffered a setback as result of the failed project. He sold his properties to settle the accumulated debt.  Some of the meagre palliatives which followed for Baba Sala was a million Naira from the programme "Who Deserves to be a millionaire,"  jointly designed by Ultima Media and Senior Citizens Care Foundation, SCCF, to cater for the elderly people who have contributed meaningfully to the country. Adejumo as a septuagenarian pastors a branch of the Cherubim and Seraphim Church, Ilesha, Osun State, a vocation which in his testimony, keeps him happy[iv].
[i] Newswatch March 8, 2010
[ii] Punch July 14, 2013
[iii] Tell May 2, 2000