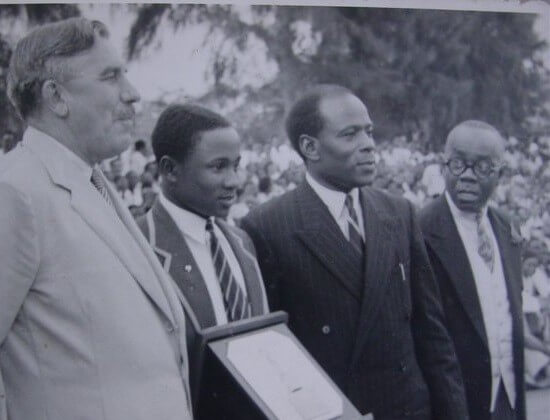 Mobolaji Bank-Anthony; Industrialist and philanthropist. Bank-Anthony played an active role in the industrial development that swept over Nigeria from 1950s to the 1980s. He was a pace-setter in the joint partnership trend between entrepreneurs and with the various governments. He also spearheaded a good number of government joint ventures at multiple levels. He died May 26, 1991 in Lagos and was given the quiet burial that he wanted.
As a young man, Bank-Anthony joined the Lagos Youth Movement (later named Nigerian Youth Movement) to fight colonialism. His foray into activism was short- lived as he soon discovered he could not devote as much time as he wanted to his speciality. He wanted to make money, thus he went into business.
Origin
Places of Growth
Born June 11,1907, in Kinshasa, Zaire, to the family of Mr. and Mrs. Alfred Bankole Anthony (of the Tokunbo Street fame) Sir Mobolaji had his education at St. Peter's School, Faji,- Lagos, Methodist Boys High School, Lagos, CMS Grammar School, Lagos and Ijebu-Ode Grammar School under late Rev. I.O. Ransome-Kuti.
Family
In 1935, Bank-Anthony married Lady Lande Adesbingbin, a marriage which blossomed till his death, though without children. He had four daughters outside wedlock. Despite his own father's wealth, Mobolaji shot out all on his own and recorded a considerable success before taking over his father's undertaking business when the man died.
 
Contemporaries
Bank-Anthony has closely associated with Obafemi Awolowo, Abubakar Tafawa Balewa, Nnamdi Azikiwe and a host of national and state administrators.
 
Experience
When in 1929 he left his first and only paid job in the colonial civil service as a third class clerk in the accounts department of Posts and Telegraphs, Lagos, he went into "general business" and in 1931, he sailed to West Germany specifically to acquire equipment for processing palm oil. The venture could not succeed because young Mobolaji lacked the funds needed to import the machines. But an opportunity presented itself when Henry Carr and Mathew Daniel died in Lagos and their families wanted monuments erected for them on their graves at the Ikoyi Cemetery. Mobolaji took the contract of supplying tombstones and with the money realised he got himself into real business.
Accomplishments
By 1988, Bank-Anthony was chairman of at least eight top national companies and director of eight. In 1979, he was awarded Commander of the Order of the Niger. He also held many foreign honours including the Officer of the Most Excellent Order of the British Empire. In 1977, he constructed a 140- bed accident ward for the National Orthopaedic Hospital, Igbobi, Lagos. In 1990, he donated the 130-bed Ayinke House to the Obstetrics and Gynoecology Ward of Ikeja General Hospital. He funded a cancer research project at the University of Ibadan[i].
[i] Tell June 10, 1991