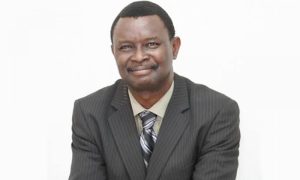 Mike Bamiloye; evangelist, producer and film director, is Nigeria's best known maker of Christian- themed films. A graduate of the Osun State College of Education, Bamiloye has thrived in movie-making despite lacking formal training in the art. The ministry started in 1985 with its first drama presentation;  Hell In Conference coming in July 1986, but the film production, which is an outreach of the ministry, started in 1990. The original work of the ministry was drama presentation in churches and campus conventions and the crew went to cities like Kano, Zaria and Kaduna to present plays, even to Kenya, Cameroun, and Ghana. Film production became an arm of Mount Zion Faith Ministries in 1990. For its dexterity in the drama, Bamiloye's group was commended by professor of Theatre Arts, Dapo Adelugba of University of Ibadan.
Bamiloye got "converted" to Christianity in Gospel Faith Mission, at Ile-Ife. He was at the church for many years until he left for Ibadan to begin attending Glory Tabernacle. Shortly before launching out in 1984, Bamiloye read about faith, giving, tithing and offering in books by Kenneth Flagin, Oral Roberts, Kenneth Coleland and T.L. Osborne. He was also engrossed in the magazines published by Kenneth Hagin and K.C. Price.
Out of several that came before it, Ultimate Power was the most popular and the watershed creating a demarcation between secular and Christian movies in the early '90s. it was the group's first major television serial. Ministry work took Bamiloye to Singapore, North Korea, China, France, London, United States and Thailand. He was also at North Korea for the Pyoyang International Film Festival.
Mount Zion Faith Ministries
Mount Zion Faith Ministries has six arms; drama outreaches which are responsible for ministry travels, and the Institute of Christian Drama, an academic arm of the ministry. Churches send their members there to learn principles of Christian drama, churning out 1200 students fifteen years since 1991 that it began. There is also the arm for Publications, a resource centre for the publication of Mount Zion drama books and classics on drama. There are six publications of this kind. Another arm is the Delegation Outreach, which is responsible for supplying television stations with  tapes, and lastly, the more recently created African Mission, with a mandate to distribute tapes and publications to other African nations[i].
[i] The News, July 3, 2006