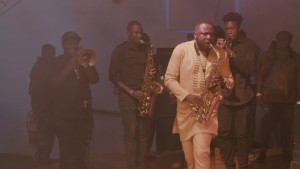 Mike Aremu;  front runner of Nigerian world-class Saxophone players, a distinguished in his ability to draw from traditional Nigerian sounds to create a sound that represents both creative-passion and his culture. Aremu is famous for gospel Jazz songs like Unveiled, Oluwaseun, Dance of Joy, and Ose. Growing up in the state of Niger, his musical interest started from the age of eight where in Church each child was encouraged in playing a musical instrument. Starting with drums, by the age of 10 he had also mastered the keyboard, guitar and bass. However, it was the trumpet that became his main focus and remained so until 1992.
Mike Aremu had his first encounter playing an alto Saxophone at the Revival Assembly Church, Lagos. Previously, he never thought of adding the Saxophone to his repertoire of instruments and had only seen it being played from a distance. From there with some basic lessons and determination, by 1995 he decided to make the full transition and concentrate solely on the Saxophone. The following year, he joined House on the Rock's music team playing alongside the likes of Sammie Okposo; Agboola Shadare,and Abiodun Akhigbe. At about this time, Mike was also playing with the Compassion Band of the Strong Tower Mission.
As Mike Aremu's confidence grew so did his reputation as a charismatic musician. This resulted in a stream of appearances at such venues in Nigeria as Pintos, The Green Lion, Club Towers, K's Place and Mega Plaza's Dome. The next step in Mike's career was signing a record deal with Kennis Music label, one of the best record labels in Nigeria at the time, through which he released two chart-topping albums "Dance" (1999) and "No Shaking" (2002) shifting a combined total of more than 1.5 million copies. Mike Aremu has also recorded two songs for the Christian Broadcasting Network (CBN) in the United States. Subsequently Mike spent a considerable amount of time travelling and performing at venues across the world. He played alongside notable international artists like Kirk Franklin, Marvin Winans, Ron Kenoly, Mary Mary and Adlan Cruz. Demand for his talent came in thick and fast with Mike completing session work for Onyeka Onwenu, Ras Kimono, King Wasiu Ayinde, Kingsley Ike and Olufunmi 1. Mike separated from Bimbo Aremu, his first wife and London-based lawyer in 2006, and they later divorced. He relocated to the U.K. to join his new wife, Lara, in 2016 and has been missing in action since then 2.
 
1.  Tribune March 27, 2009
2. Newswatch September 5, 2011