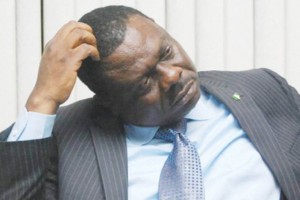 Michael Kaase Aondoakaa; Attorney General and the most controversial in President Umaru Yar'Adua's government. Aondoakka was part of the subcommittee that produced a white paper which upturned the Justice Uwais electoral reform recommendations[i].
Childhood
Aondoakaa's father was a polygamous district head of several children with his mother the most senior among the wives. He enjoyed a community-based childhood, because his family's compound was a very large one and he had a happy school life.
Places of Growth
Aondoakka was born in Lessel in the present day Ushongo local government area of Benue State. His grandfather, a man of noble status hosted people periodically to festivals. Food were shared communally. For his secondary school, he went to Mount Saint Gabriel's Secondary School, Makurdi, a good school at the time.
Education
Aondoakaa had gone to the University of Maiduguri to read political science but he took the advice of a stranger who asked him to change the entry on his form to law. Thus he was offered admission to read law.

Experience
President Yar' Adua appointed Aondoakaa even while he was a counsel to Atiku Abubakar, who was an opponent in the election that brought him to office.
[i] Newswatch April 6, 2009