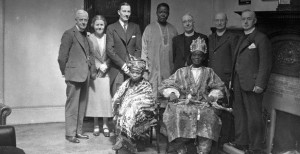 Mellor W.F. was the Wesleyan missionary whose leadership in Remo that started in 1921 was widely hailed. Revd. W. F. Mellor established a school at the bamboo church in 1928 built by manual labor at the back of his house. He was the father of the Boys Brigade Movement in Remo Division of Ijebu land and served as the Captain in many companies of the movement.
Mellor was far more important than any other white man in the area that in August 1942, representatives of the Ijebu Ode Town Council and the conservative elders called Oloritun sought his counsel after the riot of 18 July in which the of the Awujale's palace was mobbed and a British administrative officer assaulted. Mellor opposed Oro worship in which unacquainted individuals are terrorized in broad daylight, citing it as an intolerable interference with the liberty of the individual. This position pitched him in August 1944 against the famous Odemo of Ishara, S.A. Akisanya, who was widely ridiculed among Christians for his intransigence.
Mellor was clearly loved and respected among the Remo people. Despite a late posting outside Remo area, this British, like many migrants to the area, returned after his retirement and was buried in Sagamu after his death in 1977.