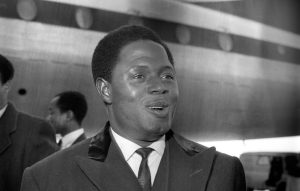 Mbu, Mathew Tawo, lawyer, diplomat, politician and Chairman, Boki Boys secondary school Board of Governors, Cross River state, born November 20, 1929 in Okundi, Ogoja, Cross River State. He was the chairman and director of Alraine Nigeria, PiJkLnglon Glass Industry, Wiggins Teape, Scan Construction Nigeria and several other companies. Mbu was the first Nigerian High commissioner to United Nations, first Nigerian Chief Representative to the United Nations and first Nigerian Chief Representative to Washington DC. He was a one- time leader of Nigerian Delegation to Commonwealth, Ottawa, Canada, and one-time Nigerian ambassador to West Germany and former Foreign secretary (minister) under the interim government. He was a fellow, London Institute of World Affairs, Royal Society of Arts. Nigerian Society of International Law. Royal Commonwealth Society and Royal Economic Society, He holds the national award of Commander of the Federal Republic, CFR, and the traditional title of Ota Ogrinya of Boki-land, Cross River state[i].
Mbu Mathew was educated at the Roman Catholic Mission School, Okundi, Wolsey Hall (Oxford) Postal Tuition, University College, London, Middle Temple Inns of Court, London and was called to the Nigerian bar in 1960. Mathhew Tawo married Katherine Anigbo in 1955 and raised six sons.
Career
Mbu Mathew was a member, Eastern House of Assembly and House of Representatives, 1952-53; member for Ogoja, House of Representatives, 1954-55; Federal Minister of Labour, 1953-54; Acting Federal Minister of Transport, 1954; Acting Federal Minister of Commerce and Industry, 1954-55; Acting Federal Minister of Works, 1955; Minister of State, Office of the Prime Minister, 1960; member of Parliament for Ogoja, 1960-66; Minister of Defense (Navy), 1961-65; Special Assistant to Prime Minister Foreign Affairs, 1963-66; Federal Minister of Transport and Aviation, 1966; First Nigerian High Court to UK, 1955-59; First Chief Representative to Washington DC, USA, 1959-60; First Nigerian Chief Representative in the United Nations, 1959-60[ii].
[i] Insider, November 25, 2002
[ii] Newswatch Who is Who