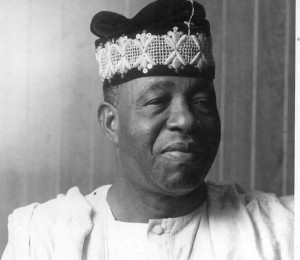 MBADIWE Kinsley Ozuomba; One of the fathers of independent Nigeria, who as leader of the National Council of Nigeria and Cameroon NCNC in the nation's first House of Representatives, joined forces with the Northern People's Congress NPC to create the office of the Prime Minister, an action leading up to Nigeria's independence. Mbadiwe was second in party ranks to Nnamdi Azikiwe who was to become Nigeria's first President. Barring the short schism in 1959 caused by difference in ideology, the two were affiliates for life.
From his first contact with Nnamdi Azikiwe in 1937, Mbadiwe had imbibed the nationalist spirit. He arranged the eloquent America-educated journalist to meet his millionaire brother, J. Green, who took up shares in his West African Pilot, the medium through which the crusade against imperialism was popularized. Mbadiwe represented the paper in Port Harcourt, Aba, and Onitsha, contributing to its early success[1].  After his studies in America, he returned to a deeply divided political stage. Azikiwe had become an important independence fighter, though he resented the extremism of his philosophy, Obafemi Awolowo, with his Egbe favoured prioritizing sensitization at the tribal level with the aim of achieving country-wide unity. Mbadiwe wanted a truly united front against colonialism. His effort at achieving this; creation in 1951 of the National Rebirth committee which comprised of different political leaders of the time, ended in failure.
Later in 1951 Mbadiwe joined the National Council of Nigeria and Cameroon NCNC on invitation of Nnamdi Azikiwe. The council, formed in 1944 from several unions and associations had been under the leadership of the Lagos populist, Herbert Macaulay. With the inauguration of the regionalizing Macpherson Constitution, Mbadiwe became member of the first generation of indigenous parliamentarians. As Tafawa Balewa was leader of the Northern People's Congress NPC in the House of Representatives, so he was the leader of the NCNC. Mbadiwe opposed the 1952 merger of Lagos with the Western region, a move which, like his involvement in the Enugu Massacre enquiry of 1949, brought his name to public consciousness.
Political imbroglio in the Western region necessitated alliance of ruling party dissident, and Premier, Ladoke Akintola's group with Mbadiwe's NCNC. Subsequently, the NCNC was systemically obliterated from the West in 1964 elections. A coup d'etat on 15 January 1966 finally put a stop to the struggles that followed. In the following day, Mbadiwe inevitably issued a statement transferring the government to the Armed Forces. Colonel Odumegwu Ojukwu, military head of the Eastern Region formed a Consultative Assembly into which Mbadiwe got elected from his Orlu constituency. The Eastern Region, now known as Biafra announced its secession from the Nigerian federation in 1969. Mbadiwe's opposition to this earned him incarceration, but he later accepted to be an envoy of Biafra in America and Britain. Mbadiwe was co-opted by Head of State Olusegun Obasanjo as member of the committee which gave Nigeria its 1977 Constitution.
Mbadiwe died 29 August 1990 shortly after completing what he called a "handover note to the next generation"
Origin
Patriach of the Odum family of Arondizuogu to which Kingsely Mbadiwe belong migrated from Ogba in Awka to Ndi-aniche Uno in Arondizuogu. The eldest of his six children, Igwegebe Odum, finding no room for his ego within the strictly parochial Arondizuogu community chose to leave the town. On the advice of Kingsely's own father, who had the ears of Igwegebe, the family of six and their spouses and children settled in Ndikelionwu where they prospered before venturing to seek a larger space for their expanded treasures. The Odum family therefore settled at Oneh.
Places of Growth
Kinsley Mbadiwe was born on 15 March 1917 in Oneh, where the foretelling of a pagan priest won for him the affection of everyone. His brother, worried that this may impair his morals, took him to Port Harcourt and enrolled him at St. Mary's Elementary School. Not able to cope with severe discipline, young Kinsley ran away back home.  He was taken to Aba Government School, Hope Waddel Training Institute, and Aggrey Memorial College in Arochukwu. There, he became a frequent caller at the home of Dr. Alvan Ikoku where he supplemented drab school meals. The vicissitudes of his family live, and having educated adventurous brothers caused his frequent changing of schools. He was to move further even to Baptist Academy, before leaving for Igbobi College, both in Lagos.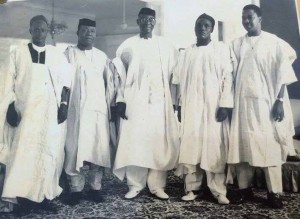 Childhood
Kingsely's childhood was filled with affection of family and elders who were in the know of his proclaimed status at birth as the reincarnation of Okoli Udozuka, a famous warrior and merchant. Adulations which this attracted was nipped in the board as he came under the guidance of his older brothers. During his secondary school education in Lagos, his brother, D.O. sent food items which he sold to complement his pocket money. Before long, he made enough money to cater for his needs.
Family
Kingsely had a good starting in life, due in part to his very successful older brothers, one of whom sponsored some of the first team of Nigerian education tourists to America in 1938. He married Celcilia Alisah in 1950 and had four sons and a daughter[2].
Travels
On 8 February 1938, Kinsley Mbadiwe arrived in the United States for his university education. Through the African Academy of Arts and Research which he thoughtfully established as one of the few African students in America, he had the audience of first lady, F.D. Roosevelt who hosted him in the White House, and kindly honoured his invitation to African dance and music festivals. Encouraged by his success, Mbadiwe sailed for England in 1948 where he sought support for his Africa House in New York. He also carried his campaign to West African countries of Sierra Leone, Liberia, and Ghana where he was received by Dr. Kwame Nkrumah, later to become first president of independent Ghana.
Family
Overwhelmed by nationalist activities, Mbadiwe had little time for dating, but his family arranged for him to meet a Catholic girl from the same ancestral village, Cecilia Chidozie Alisha. They got married in 1950.
Contemporaries
Kolawole Balogun, a lifelong friend and fellow party member was the editor to Mbadiwe's posthumously published autobiography. Nwafor Orizu who was Acting President for a few hours after the coup of 1966 of was among the first team of Nigerian students who went to the United States in 1938 for study. Then, Mbadiwe had co-signed a handover to Aguyi Ironsi, an army General whose appointment to the post of the General Officer Commanding he had facilitated only months earlier. With colleauges such as Muhammadu Ribadu, Okotie-Eboh, and T.O.S. Benson, Mbadiwe served under the government of Tafawa Balewa, a friendly contemporary who he called the rock.
EDUCATION
Mbadiwe went to the Lincoln University, and later the Columbia University, bagging a bachelors degree in Banking and Finance in 1943. He received a masters degree in Political Science from the New York University in 1947.
EXPERIENCE
As a parliamentarian in pre-independence Nigeria, Mbadiwe was appointed Minister for Lands and Natural Resources. In this position he commenced the face-lifting of the Surulere slum in Lagos. Shortly after independence he was appointed Adviser on African Affairs by Prime Minster Tafawa Balewa.  In 1961, he left this position to re-contest the parliamentary seat which he lost to opponent in election two years earlier, and won. Three years later, Mbadiwe became Fedreal Minister for Aviation. He was consistent in his political involvement, and from parliamentarian seats, he got drafted into committees and worked as diplomat. In September 1983 he resigned his appointment by President Shehu Shagari as Special Adviser on National Assembly.  During Shagari's second term as president, Mbadiwe was appointed Ambassador Extraordinary and Plenipotentiary.
MOTIVATION
Kinsley's early contact with the White House in Washington DC as a young adult undergraduate formed the impetus with which he carried on with his nationalist activities.
ACCOMPLISHMENTS
It was Kingsley Mbadiwe who introduced a motion for the Central Bank as a means of strengthening and guiding existing African banks. What he failed to achieve for his country, he was able to do for Africa, by providing intellectual impetus for the welding of the two Pan-African organizations; the Monrovia and the Casablanca groups into the Organization of African Unity in 1963. He rallied international humanitarian support for war-torn Biafra during and shortly after the war.
[1] Rebith of a Nation, K.O Mbadiwe, Fourth Dimension Publishers, Enugu,1991
[2] Who's Who in Nigeria, Nyaknno Osso, NewsWatch Comunications Limited, Lagos, 1990, pg. 456