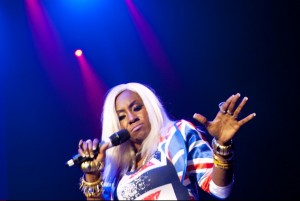 Yemisi May Odegbami, popularly known as May7ven was born on 7th May 1984 in Ibadan to one of Africa's football legend Segun Odegbami, father and Accountant /ex-athlete mother, Jumoke Tejumola. While growing up, May spent her first six years in Nigeria, where she attended Bodija International School for primary education, before relocating with her mother, brother and sister to the UK. Her love for music and entertainment developed early and at age 10 she joined her church choir and started teaching street dance at her local community centre in Kensal Green, at 14, to children and young adults. During the years May studied music, Sound Engineering, Building Surveying and Architecture. At 17, May got her first job as an estate agent and property developer, whilst still pursuing studies and a music career.
May didn't go into music professionally until 1997, when she began writing songs and backing vocals, she provided backing vocals for Phoebe One, Wayne Marshall, Ebony, Lloydie Crucial and KRS1. May did backing vocals on a couple of tracks on Jamelia's 2000 debut album "Drama on Money" songs like, 'One Fine day' and 'Bout it' which featured Rah Digga. May later went on tour with some of the biggest name in concert around the world including Blu Cantrell, Beverly Knight, Mary J, Angie Stone, Stevie Brookestein, Akon, and others. May continued singing, as she followed her long life dream till she returned home to Nigeria. In 2008 May7ven's performance impressed one of the Jacksons, Marlon Jackson at the La Campaign Tropicana Lekki Nigeria, Marlon commented that she reminded him of his sister Janet. In 2009, she released her single Bo Aso Lara Mi, a huge success that stayed on the top of Nigeezy chart for a while and 20 weeks on Ben TV, Soundcity top 10 for 12 weeks, Top 10 Mtv Base UK and so many others. In that same year, May7ven was commissioned to write and produce several programs and theme music for TV and films including the 1st Eko awards, Abuja Festival, The first Annual Gospel Music Awards UK 2009, she also won at the Nigeria Music Video Award (NMVA) for best video in Europe, making her the first female to win in this category.
In 2010, May7ven started working, writing and co producing for the upcoming Nigerian artist under her label, May7ven was also the main feature in 2010 music video by artist Meshak, it was dubbed the most expensive Nigerian music video for 2010. In 2011, she teamed with producer Antoine Stone to complete works on her album which included recording TenTen and released in 2012. May7ven has received over 8 awards for her music and best new artist, and has been nominated over 5 times. In 2011, she also launched her own radio show co produced by DJ Abrantee on City FM 105.1 in Nigeria, broadcasting everyday each Friday from 8pm to 10pm. In 2014, she lined some fourteen artistes up in a solidarity song for the "Bring Back Our Girls" campaign in respect of the over 200 school girls abducted by terrorists in Chibok town of Nigeria.