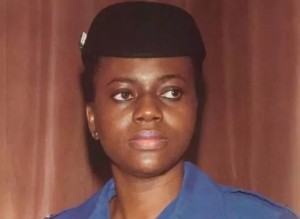 Maryam Babangida; wife of Nigerian military President Ibrahim Babangida, who with her visibility and glamour elevated the position of the first lady. Urbane and beautiful Maryam opened an office for herself in the presidency when her husband became president. In 1987, two years into her husband's military presidency, she launched the Better Life for Rural Women Programme (BLP), which incorporated the wives of all senior state officials[i]. Her influence during her husband's reign is accentuated by the scuffle with Bolanle Awe, history professor who was appointed to chair the state surrogate of her own initiative which ended in the body being transferred under her own office. The first lady, friend to the elite, died on 27 December 2009 of ovarian cancer, which she battled for 10 years[ii].
Places of Growth
Maryam (nee Okogwu) was born in 1948 in Asaba, Delta State, where she started her education before moving to Kaduna, where she attended Queen Amina College.
Education
Maryam trained as a secretary at the Federal Training Centre, Kaduna, and later obtained a diploma in secretarial studies from Laselle University, Chicago, USA. She also earned a certificate in Computer Science from the NCR Institute in Lagos.
Family
On 6 September 1969, two months before her 21st birthday, Maryam married Major Ibrahim Badamasi Babangida with whom she had four children-Aisha Shinkafi, Mohammed, Aminu and Halima.
Work
The National Commission for Women, NCW which was the official organ responsible for women's issues had its board reconstituted shortly after it was established in 1990 and put under the office of the first lady headed by Maryam. The body was in the first place, the state response to the illegality of the Better Life Programme ran by her, which was ultimately paused with the exit of her husband from power.
After her family left the presidential palace in 1993, she busied herself with the running the affairs of a privately owned college in Minna. In 2004, she was invited to Budapest, Hungary to attend the conference of WAN GO, (World Association of NGOs)[iii].
[i] Tell June 2, 2008
[ii] TheNews January 11, 2010
[iii] Insider December 27, 2004