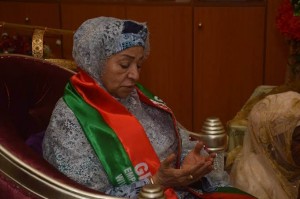 Maryam Abacha; Wife of General Sani Abacha, Head of State, hence First Lady of Nigeria, 1993-98. Maryam cancelled the scheme of her predecessor. In its place, she launched the Family Support Programme, FSP, which allegedly served as one of the numerous drain pipes through which Abacha looted the national treasury. In the heydeys of Obasanjo presidency Maryam made efforts to save her son, Mohammed, who was being tried on a four-charge count charge of conspiracy in the murder of Kudirat Abiola, wife of the late MKO Abiola, winner of the annulled June 12, 1993 presidential election[i]. She is said to be publicity shy, and she held the belief her husband's actions as leader was in the best interest of the country. She was the founder of the hospital in Abuja which metamorphosed into the National Hospital.
Meeting Sani
Maryam Abacha was born in Kaduna, 4 March, 1947. Her relationship with Sani Abacha dated back to the early 1960s in Kano where both of them went to school. Abacha in his days at the Provincial Secondary School (now Rumfa College) in Kano (1957-1962), which he attended shortly after he left City Senior Primary School, also in Kano, developed a steady relationship with Maryam Jidah, who was then a student of the Dala Girls Secondary School, also in Kano. According to family sources, in those early years of innocence, both called each other by the first letter of their names. For Maryam, "S" stood for Sani, and for Sani Abacha, "M" stood for Maryam. And so S and M became a love signature that was well known to the boys at Provincial Secondary School, as to the girls at Dala. But not many people thought Sani Abacha was a good match for Maryam who was then said to be extremely pretty. A reason for their reservations was that Sani was from a humble background. When in 1962, he opted for the army, four days after his school certificate examination, and entered the Nigerian Military Training College, intense pressure was bought to bear on Maryam's parents to terminate the affair between their daughter and Sani.
Family
Sani Abacha, newly commissioned second Lieutenant and soon to be promoted Lieutenant married Maryam in 1965. Shortly after, she had her first son, Ibrahim, who died early 1996 in a plane crash. After Ibrahim, Maryam gave birth to Mohammed, Abbah, Zainab and six others[ii].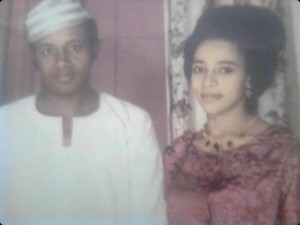 First Lady
When Maryam Abacha became First Lady in 1993, she took a dim view of her official role in government. A conscious effort was also made to prune the wastefulness of Mariam Babangida's Better Life Programme and the assaulting visibility it offered the platoon of about 30 first ladies. To drive home the point, a decision was taken to cancel the already scheduled elaborate sixth anniversary of the programme for which about N4.4 million was earmarked. This was the result of the proposal of a committee appointed by Maryam Abacha to review the programme. After two years of staying in the shadows of General Sani Abacha, Nigeria's military leader, she began to stand up for national and international reckoning as First Lady.
[i] Tell 3 January, 2010
[ii] The News 12 August, 1996