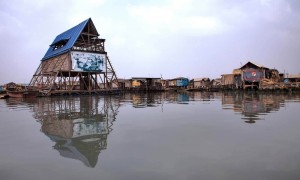 Makoko; a renowned Lagos slum with makeshift building constructed with planks and partially corrugated iron sheets on top of a rather stagnant river as its hallmark of life. From the rising of the sun to its setting, the dour and pungent air, the muddy terrain and the dreary mouldy piles overfilled with broken bottles and plastic, nylon bags, torn clothes, empty cans, human waste and other objects are a sight one would not be willing to behold. In Makoko, shanty houses, also made of wood and corrugated iron sheets, compete not only with poorly constructed concrete structures, but also with garbage. Space is at a premium in Makoko and so the shanty houses are built wall to wall. Small cocoon-like houses, constructed with planks, are erected on stilts in the shallow parts of the lagoon. And there are hundreds of such 'houses', forming a maze-like pattern, which are connected by rickety makeshift bridges and staircases. These stretch out to the outer ends of the horizon and the Third Mainland Bridge, thus forming a seemingly mythical line across the path of the afternoon sun.
 
People & Opportunities
For the inhabitants of Makoko, majority of whom are Ilaje, Ijaw, and Egun ethnic stocks, they eat, sleep and live in the environment with ease strengthened by satisfaction. Most of them engage in various forms of trade such as petty trading, nearly all the families in Makoko are engaged in fishing. Rowing their canoes far into the lagoon, the men, who are swimmers and fishermen of legendary capability, catch fresh fish, shrimps and crabs using equipment such as nets, woven baskets and fish traps. The women process and market these aquatic 'delicacies'. Even though an inferno razed many of the houses in 2004, many of the occupants still returned to re-build their 'houses'.
 
Health concerns
Makoko have witnessed a lot of diseases ranging from gastro   arthritis, diarrhea, malaria, typhoid, measles and other water-borne diseases. Due to poverty and ignorance, many patronise traditional healers and only come to health centres a when the case has become critical[1].
 
[1] TELL February 19, 2007