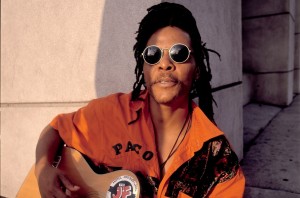 Majek Fashek; real name, Maekodunmi Fasheke was the Nigerian Reggae musician and rastafarian who rode the musical scene  in early 1990s. Majek Fashek, born in Benin City in 1963 took motivation from the legendary Aswad and Jimmy Cliff . He was drawn to reggae in the 1980s at a point when highlife and juju were more dominant in Nigeria 1. Highly talented in use of multiple musical instruments, Majek was formerly with Jahstix band and he became so popular even beyond the shores of the country in concerts that he played together with Lucky Dube a couple of times in New York. Things changed for Majekodunmi soon after. His fame did not only suffer, he personally went under for a long time before 2015 when Charles Novia of November Records tried to relaunched  him with an album titled Little Patience 2 . Among Majek Fashek's  hit songs were the evergreen Send down the rain, 1987 which he claimed to have obtained after days of fasting 3. Others are So Long, 1991. Also, Free Africa, Free Mandela. Majek used spiritualism, smoked Igbo and indulged in alcoholism 4.
Each time Majekodunmi visited Australia, Asia, Europe and America, he discovered Nigerian music was all over the place. He loved the Americans and called them brothers. Nigerian music according to him is fashioned after American. When he came back to Nigeria, he watched TV and saw the younger generation in music playing American kind of music. He was impressed and adduced the Americanism as them being civilized. The music industry in Nigeria transformed from fuji to juju then reggae with the likes of Majek Fashek and Raskimono to the dance and lastly to hip hop 5.
 
 
Some of Majek's contemporaries like Orits Williki, Ras Kimono and Mandators tried to make a comeback but they were not lucky to make hits as their songs did not appeal to the younger generation. Majek on the other hand collaborated Black Face and other volunteers from the younger generation. In 2015, he also set the auditorium on fire with his duet with king of pop music, Tuface Idibia at the fifth anniversary of the Copyright Society of Nigeria 6. He died in June 2020.
 
1. BBC News June 2, 2020
2. Gateway Mirror September 20, 2007
3.  Punch July 2, 2016
4.  Tribune September 25, 2008
5. Tribune July 17, 2010
6. Punch May 30, 2015