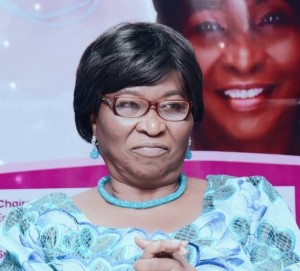 Olutunmbi Maduka; the first Nigerian registered female engineer. As a recipient of several awards, she attended various seminars and presented papers, including the report on the commercialisation of National Electric Power Authority, now Power Holding Company of Nigeria. Maduka was born to the Daniel Dada and Grace Olufunmilayo Layinka of the Loro and Odole chieftaincy families of llesha.
Childhood
Olutunmbi and her siblings lived in the fear of upsetting their father, who ensured to raise them in the strictest setting. Her mum was no liberal either. To please her father young Olutunmbi focused on academic pursuits. The entrance examination Jonna took to the school in Ede was so competitive at that time that she was the only child that passed the examination in Ilesa, a feat which earned her a special party in her name. Her father's inability to sponsor her schooling in schools she gained admission into in 1959 almost stalled her dreams, save for the intervention of a biology teacher in Queen's School who prevailed on her father to strive harder by convincing him about his daughter's potential.
 
Places of Growth
Olutunmbi was admitted into Methodist Girls High School in Lagos when she was nearly 14 years old. In 1955 she preceded to Queen's School in Ede, Osun State.
Family
Olutunmbi is married to an Igbo man with whom she had many children.
Travels
Olutunmbi was in Britain for study and also did a Masters course in Dublin. On both occasions, she was the only girl in the whole Faculty of Engineering.
Education
Olutunmbi obtained the Western Region Government scholarship and opted for the University of Ife, now Obafemi Awolowo University, lle-Ife. After a stint doing Applied Physics, she went on to study engineering and, bagging a second class (Upper Division) degree. She proceeded to take courses in Electrical Engineering at the British Institution of Electrical Engineering. In 1969, she obtained an MSc. in Engineering from the Trinity College in Dublin.
Affiliates
Olutunmbi is a fellow of the Institution of Electrical Engineers of Great Britain, FIEE. The Vice-President of the Nigerian Society of Engineers, NSE, between 1993 and 1996, and member of the Governing Council of the Federal Polytechnic, Idah between 1980 and 1984 and then between 1986 and 199S, she was also a member and later Vice-Chairman of the United Nations Advisory Committee on Science and Technology for Development between 1990 and 1993.
 
Work
Before her masters, Olutunmbi worked variously as a Graduate Apprentice at the Engineering Division of the Western Nigeria Broadcasting Corporation and a lecturer of Applied Physics at the University of Ife. Between 1970 and 1975, she was Senior Engineer at a firm of electrical, mechanical and communications engineers, rising to become Principal Partner of the firm[i].
 
[i] The News November 23, 2009