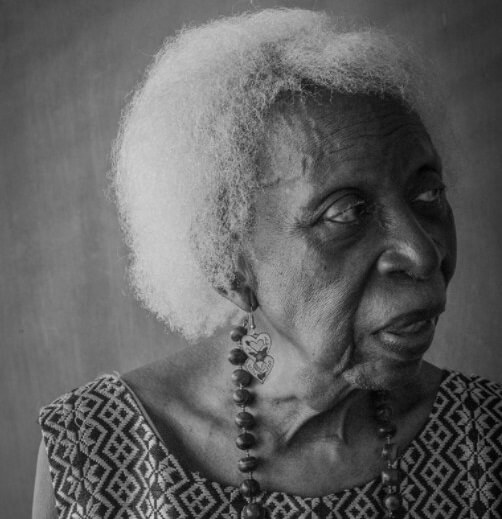 Mabel Segun; Novelist, one of Nigeria's first generation writers. Mabel Segun is the author of  My Father's Daughter, The First Corn, Olu and The Broken Statue, Youth Day Parade, The Twins and The Tree Spirits, and Sorry, No Vacancy[i]. Her last work before her comeback in 2010 was in 1998. And before that, she had one in 1995. This came after nearly two decades of extensive travel and research, Mabel Segun. Veering away from fiction, her book, Rhapsody: A Celebration of Nigerian Cooking and Food Culture attempts to document various Nigerian culture around food. In her younger years she wrote a novel that was burnt by her first husband who thought she might become famous. Her novel was written years before Flora Nwapa's who would eventually be credited as the first Nigerian woman novelist. Mabel Segun was joint winner with Akachi Adimora-Ezeigbo of the 2007 The Nigeria Prize for Literature sponsored by the Nigeria Liquefied Natural Gas Limited, NLNG[ii].
Mabel, daughter of a clergyman from Edo State, was born in 1930. She was educated at CMS Girls School, Lagos, the University College, Ibadan, where she was a contemporary of Professors Chinua Achebe, Akin Mabogunje and Grace-Alele Williams. In 1962, she did a postgraduate programme in the British Institute of Public Relations, before training in book editing, in the United States. She had variously been a teacher, a freelance general broadcaster, educational broadcaster, senior research fellow in the University of Ibadan, and Nigeria's Deputy Permanent Secretary to UNESCO[iii].
Mabel hoped to evolve a reading culture in the country, especially for children; a dream she believed she had failed to realize. Children, in her thinking, learn more from books than they do from being talked to. This according to her, is because they tend to identify with the characters they read about in books. For her commitment to promoting children's literature which she describes as a "passion," she has refused to have anything to do with politics. Son, Femi died from injuries he sustained in a power bike accident in 2014[iv].
[i] The News May 7, 2007
[ii] The News October 27, 2008
[iii] The News March 6, 2000
[iv] Tribune March 29, 2014