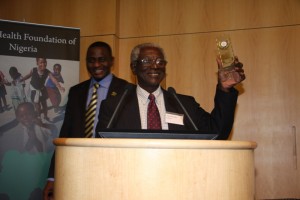 Adetokunbo Lucas is a Nigerian medical doctor, recognized for his international role in fighting neglected tropical diseases, especially in follow-up to the so-called "Guinea worm cease-fire" during Sudan's civil war in 1995. Ade Lucas was born 1930 in Lagos; living two years of his infancy in the vicarage after his father became in 1936, the vicar of the St. Paul's Breadfruit Church. He was nephew to Ladipo Oluwole , also a distinguished physician of his time who inspired him to study medicine in England, arriving few months to Nigeria's independence in 1960.
At the University of Ibadan where he became professor in his early '30s and where he was lecturer for sixteen years, he became more interested in the issue of tropical diseases, opting to study the type of health condition that people faced in Nigeria. After retirement, he took up the job of the director in the newly formed World Health Organization special program for Research and Training in Tropical Diseases. On that position in Geneva he was, till 1986.
The program Lucas Adetokunbo headed resulted in the development of new and improved tools for the control of diseases like leprosy and river blindness that affect the world's poorest and most neglected people. America's former President Carter in nomination of Lucas for his foundation humanitarian award with which he was honoured in 2013 called him one of the most deserving.