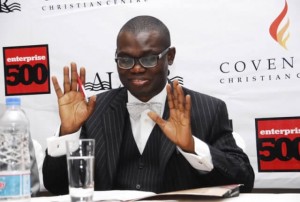 Leke Alder is the brand strategist and policy consultant credited with introducing branding as a discipline to Nigeria. Through the Alder Consulting, which he founded, he has consulted on policy, politics and business at the highest levels locally and internationally.
Born as an only child, Leke Alder's dream from childhood was to be a lawyer, though he was a person of many gifts. He was educated at Igbobi College and Kings College. He studied Law as a scholarship student at Obafemi Awolowo University, Ile-Ife. While in the University, Leke's passion for art grew and he had an exhibition attended by over 2000 people, a spectacle that was reported by the Guardian newspapers.
Upon graduation, Leke Alder practiced for two years in a law firm and got restless again. At 26, he was already married. He did cartooning and designing briefly to support his new family, and quickly discovered how to make a better living from it. Through his craft and intelligence, he made friends with Lebanese and Italian expatriates who consulted him on their own businesses. A struggling company he had helped make 100 million naira within six months, gave him a 1 million naira retainership. Each work done attracted a different client. Each satisfied client referred another. And so from one room apartment and with N70 as start-up capital, he began to advice individuals, corporations, embassies and governments.
 
 
Leke Alder wrote the blueprint on Nigeria's image management program – the Heart of Africa project and was the Chief Consultant to the Federal Government on the project.??He was appointed by the Federal Government to the Board of Nigeria Extractive Industries Transparency Initiative (NEITI) and was Chairman of the Board Tenders Committee as well as Chairman of the Communications Committee. He served on the Board for 4 years. ??He is currently a member of the Steering Committee of Nigeria's hosting of the World Economic Forum on Africa and the Chairman, Sub-Committee on Media, Host Broadcasting & Advertising.