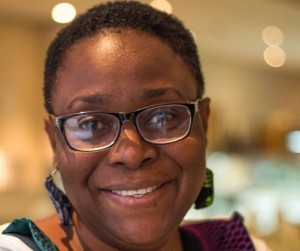 Layiwola Peju; Nee Olowu, leading figure among the new generation of metal sculptures in Nigeria. A grand-daughter to Oba Akenzua II of Benin, her career was shaped by the Royal Art of the kingdom. Peju's mother who did metal casting in Benin at a higher degree was her earliest influence. When young, she helped her mother as an apprentice in her studio. Nevertheless, she got no ready support from her parents when she opted for Fine Arts in the secondary school because of fear her profession would not be appreciated in Nigeria. Later, her mother would become her tutor in Arts at the Federal Government Girls College in Benin. Although Peju took science subjects mainly, deficiency in some subjects could not afford her the right combination, hence she took fresh courses in the arts. Through hard self-study she made a switch. Professor Nwagbojie, who was one of Nigeria's leading artist chose her art work with which he was acquainted during a visit to her secondary school for use on the back of his book – a Fine Art book for secondary schools. The work was a painting of sunset scene having two men playing draught in a field with grazing cattle.
Origin
Peju's paternal grandfather, Charles Olatokunbo Olowu whose own parents came from Ilesa was a successful businessman who settled in Benin in his fifties from Isale-Eko. Charles Olowu was involved in the Cinema business and he was the first man to bring Cinema to Benin, Warri and Sapele; Wayside Cinema in Benin, and l.Uzo Cinema in Sapele and Warri. Her father was on the other hand.
 
Places of Growth
Peju Layiwola grew up in Benin, a traditional town with a lot of carvers, leather workers, and bronze casters.
Family
Peju's mother encountered huge opposition from the centuries old guild of bronze casters in Benin who kept the knowledge of metal casting esoteric and who forbids women to learn the skill. Her insistence on having obtained permissions from her grandfather, the Oba of Benin did not only exempt her but also she carved a way for Peju, and her other female colleagues to trail the path.
Education
Peju Layiwola entered Uniben in 1984 where she offered various courses in her freshman and sophomore years. Her initial interest was to specialize in sculpture, which was her mother's area too. Later she realised she could specialize in metal designs and opted for it. In 1987 she and four other female colleagues became the first set of female undergraduates to offer the course in class of eight. This was in spite of the course's notoriously intense manual work which forced many into the less hazardous work of painting. Peju Layiwola bagged a University of Benin degree in Fine Arts and got a Masters degree in African from the University of lbadan. She taught metal sculpture briefly at the University of Benin and moved in the early 1990s to lbadan to join her husband Dr. Dele Layiwola, a dance expert at the University of lbadan.
By the time Peju did a masters programme she had become interested in exploring the various facts about the Oba's regalia which had bronze metal extensively used as accessories. Her thesis was mainly on the regalia of the Oba. Among Peu Layiwola's successful works are the sculpture of a woman begging for alms, and another titled Sober Reflection, sculpture of a woman seeking help for her dying child.