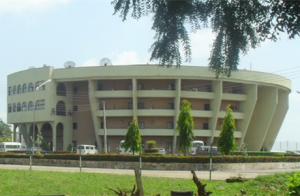 Ladoke Akintola University of Technology, Ogbomoso (LAUTECH) is a technology-oriented university that is located in the South-Western region of Nigeria. It was named for Samuel Ladoke Akintola (a native of Ogbomoso who was premier of the Western Region of Nigeria in his lifetime). The university has two campuses: Ogbomoso (in Oyo state) and Osogbo (in Osun state) campuses and is currently made up of six faculties and a college. It is jointly owned by two states in Nigeria: Oyo and Osun states. The entire student body population is presently about 20,000 Ladokites, as they are colloquially called. For two consecutive seasons, 2003 and 2004, the university was adjudged by the Nigerian Universities Commission (NUC) as the best state university in Nigeria. The motto of the institution is 'Excellence, Integrity and Service'.
The initiative to establish the university was taken in 1987 when Governor Adetunji Olurin, the Military Governor of Oyo State at the time, responding to a letter from the Governing Council of the Polytechnic Ibadan, set up a seven member inter-ministerial committee. The Committee submitted its report in 1988 and recommended the establishment of a State University. Several other committees were inaugurated to deliberate several issues as the proposal became increasingly resolute and until the university was finally established in 1990 after Col. Sasaenia Adedeji Oresanya (who then was the State Governor) signed the Edict Establishing the University.
The first Academic session began on 19th October 1990 with a total number of 436 candidates who were offered admission to study various courses in four faculties namely Agricultural Sciences, Environmental Sciences, Engineering and Management Sciences, and Pure and Applied Sciences. The establishment of the College of Health Sciences was postponed for a year and later took effect in October 1991 with a student population of thirty (30). The Faculty of Engineering and Management Sciences was also eventually split into Faculty of Engineering and Faculty of Management Sciences.
As at the time of the establishment of the university, Osun State had not been created from Oyo state, hence the institution was initially called Oyo State University of Technology (OSUTECH). After Osun State was created from Oyo state, the name of the University was changed from Oyo State University of Technology to Ladoke Akintola University of Technology, Ogbomoso and the Edict that established the University was appropriately amended. The two states continued to have joint ownership of the university; this has proved to have merits as well as demerits.