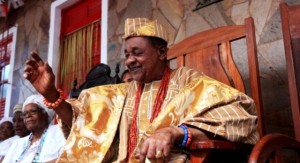 Lamidi Olayiwola Adeyemi III was the Alaafin of Oyo since 1970, born 1938 to the Alaafin Adeyemi II Adeniran who was forced out of the throne in 1954 for taking sides with the less popular party in the Western region, the NCNC. Beating ten other princes at a contest that began in 1968, Lamidi Adeyemi was elected by the kingmakers, the Oyomesi Council, and consequently he was at an impressive ceremony at the Durbar Stadium, Oyo town, presented with the staff of office as the Alaafin of Oyo.
Starting from the Quranic School at Iseyin, Lamidi was transferred under the mentorship of the Headmaster, St. Andrews Primary School, later named St. Andrews College, proceeding thereafter to live with the Alake of Egba, Oba Oladepo Ademola, in his palace. After the 1947 protest of Egba women against tax without representation led by Funmilayo Ransome Kuti, the Alake fled to Osogbo, taking Lamidi with him, and effectively obstructing his education. His father savaged the situation, arranging for him to live with lettered people in Keffi. In 1946, he had armed himself with grades that would make him realise his ambition of studying Law abroad but that changed when, few days to his travelling, his father was deposed in Valentine 's Day 1946. His prowess will therefore be directed into writing for newspapers under a pen name. In 1968, his article, "I shall be great" was published. He also wrote for the rights of Teachers and on women liberation. His often tough life would be eased with his ascension in his career at the Royal Exchange Assurance, and with the business which he built. With the death of Alaafin Gbadegesin Ladigbolu II, a procees was begun which produced Lamidi, among other princes as the Alaafin to occupy the seat once taken by his father.
In 1980, having apparently impressed his intellect on the supreme military authority during the 1976 creation of Oyo, Ogun, and Osun states, Lamidi was appointed as the pioneering Chancellor of the University of Sokoto,which was later renamed the Uthman Dan Fodio University, Sokoto. In that position he was for twelve years, prolifically publishing academic and reasoned memoranda on the university education and on contemporary issues. In 1988, he installed M.K.O. Abiola as the Aare Ona Kakanfo of Yorubaland. In 1990, the Federal Government under the administration of General Ibrahim Babangida, appointed the Alaafin as the Amiru Hajj operation to lead the Muslim faithful in the 21 states of the federation. Lamidi, as king, was decidedly an harbinger of culture. The primacy of his stool among other monarchs was atrophied in 2011 by the outgoing ruling party as a consequence of his intervention in the politics that produced the opposing party as winner of the 2011 elections.