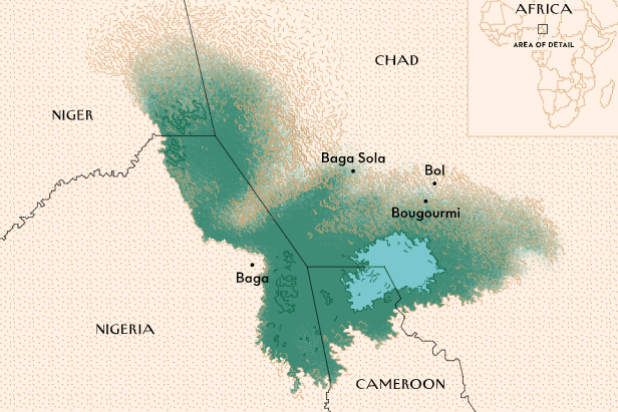 Lake Chad; at the farthest northeast end of Nigeria sharing close boundary with Niger, Cameroon, and Chad republics. The Chad basin, 2258 kilometers wide, was in 1991 designated as a tourist site in Borno and Yobe states[i]. The International Court of Justice, ICJ ruled on Thursday, October 10, 2002 that the boundary in the Lake Chad area was in accordance with the Henderson-Flenrian Exchange of Notes of January 9, 1931 between France and Great Britain and rejected Nigeria's claims to the Darak area and the neighbouring villages[ii].
The Lake Chad was a most spectacular illustration of the water shortage which bestrode drainages of Central Africa in the early '70s. It was reduced to one-third of its normal size, and fish lie dead or dying in the mud where water once was. Nigeria thus maintained a land frontier with Chad for the first time in history—where the lake once divided the two countries one can now wade across. Herds of elephants from Chad and Cameroon converged on what remained of the lake, including those usually shown to tourists in the game reserves. Water supply to Lake Chad fell from 31.000 million cubic metres in 1971 to 12,000 million in 1972. Most of the water came from the Logone, Chari and Komadugu rivers, and the valleys of those rivers, notably in northern Cameroon, must be badly affected by the drought. The Adamawa uplands in Cameroon, source of the Benue and Logone rivers and home of most of that country's cattle, was certainly hard hit, though the Cameroon authorities did not appeal for emergency aid. Nigeria's North-Eastern State, in which most of the country's cattle live, was also affected, and the Fulani nomads suffered some of the ordeal of the Tuareg[iii].
The shrinkage of Lake Chad has been one of the main factors responsible for insurgency and socio-economic unrests in the region[iv]. In 2013, nineteen thousand farmers were chased from their wheat and rice fields by the armed insurgents while harvesting, thousands of  hectares of wheat under the South Chad Irrigation Scheme (SCIP) of the Authority, leaving 3, 500 hectres of not harvested wheat destroyed and infested by stray animals[v]. In the past, the Nigerian Army moved to Baga under Major General Buhari as GOC 3rd Armoured Division, flushing insurgents up to Chad so much that that the Chadian President complained to Nigerian President, Shehu Shagari about Nigeria invading his country[vi].
[i] Guardian June 29, 2013
[ii] TheNews October 28, 2002
[iii] AFRICA August, 1973
[iv] Daily trust, July 27, 2021
[v] Guardian June 15, 2013
[vi] NATION October 22, 2016