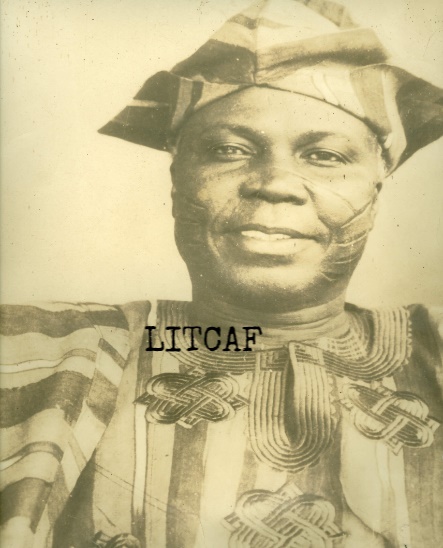 Ladoke Akintola was the politician and the eighth Aare Ona Kakanfo of Yorubaland who in 26 March, 1957 moved his famous motion for Nigeria's independence that was frustrated by gradualists who asked for independence in 1959. Ladoke, a baroquely marked face, deeply indigenous man with great command of Yoruba oration, was born 1910 in Ogbomoso. He studied law from 1946 to 1949 in London where he met and was influenced by the communist ideas of George Padmore, a leading journalist from Trinidad. This passing phase of ideological radicalism in Ladoke's life was common to many West African students in the UK around the time, but he, like most others did not only outgrow it but also became conservative in his political outlook.
As deputy leader of the Action Group, Akintola became Premier of the Western region in 1959 when Awolowo relinquished the position for the legislature where he became the official opposition leader. Akintola's approach to politics was a lot more conservative than his boss's and he vied for his party, the Action Group, to fraternize with the Northern People's Congress' dominated federal government to be able to secure federal patronage for Yoruba elites who he believed was being pushed to the background in the country's scheme of things. By 1962, this ideological difference had gone sour, and a petition signed in May by sixty-six of the one hundred and seventeen parliamentarians compelled the governor, Adesoji Aderemi to dismiss him as premier. Ladoke resumed office the next day in defiance of the newly sworn-in premier, Adegbenro. The federal government declared a State of Emergency on 25th following the fracas in the legislative house on the day Adegbenro was to be confirmed but power was returned to Akintola at the expiration of this nine months of emergency rule.




Akintola formed the Nigeria National Democratic Party (NNDP), which became dominant in the Western region. In preparation for the coming election, the party allied itself with the Northern People's Congress, the dominant party in the center. Awolowo's Action Group merged with the NCNC that was dominant in the East to form the United Progressive Grand Alliance (UPGA). Results of the election of 11 October 1965 was announced in favor of the NNDP, hence, Odeleye Fadahunsi who was the governor of the Western region officially asked Akintola to form a government. A mass uprising broke out when D.S. Adegbenro, also laying claims to victory, was arrested for forming a parallel government. Opponents of the more popular alliance, UPGA, opposed to Akintola's government, started wetting government elements by drenching them with gasoline and setting them on fire. This gross dissatisfaction with the federal party and its ally in the West partly formed reasons for the intervention of the military in 14 January 1966. Ladoke Akintola was assassinated in Ibadan, cut in cross fire while trying to defend himself.