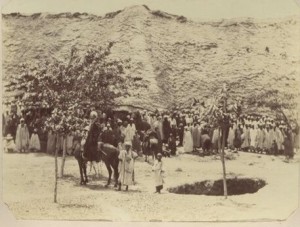 Kurunmi was the tyrant of Ijaiye, and Aare Ona Kakanfo installed in 1836 by childhood friend, Alaafin Atiba to defend the ancient south western Nigeria territories against Dahomey. His ascendancy to power and entrenchment of aristocratic rule kickstarted with the expulsion of Dado, the army captain of an allied battalion who invited him with his men encamped at Oke-Idan to Ijaiye. Kurunmi made pact with Ibadan soldiers led by Oluyole, another friend while a young warrior, to eliminate captains of the expelled General, Dado, who re-camped with loyal soldiers not far away. Dado, though now a poor and powerless man, was also killed. To consolidate his authority, the General, fearfully called Aare, embarked on a systemic purge of other persons considered a threat, including his own lieutenants. The man appointed by the Alaafin to deputize him in his position as the commander of the Oyo army he forced out of Ijaiye in 1844. This he did only because killing him would have caused an uprising, being a man of large following which in fact accompanied him to form a new settlement.
Kurunmi was feared and adored slavishly because of his stern judgments, and because of his friendship with the Alaafin at Oyo, and the ruler in Ibadan. Even his chiefs, as observed by Reverend Townsend in 1852, "stood at a very cold distance," never muttering a word in his presence. Although Kurunmi ws clearly despotic, he exercised caution in interfering with the family affairs of his subjects, and he evinced good judgement, even kindness on several occasions. His government which lasted for three decades was able to bring about peace and order that was very rare in the highly chaotic era in which he lived. Kurunmi's extreme tyranny may have been due to the need to achieve political stability, his intoxicating connections forged by friendship and by marriage, or his disrespect for the judgement of others, an instance being Dado's. Against his counsel, Dado had sacked the town of Ijaiye in 1831 on the charges that they protected their own town from looting by his soldiers.
Kurunmi was drawn to a war when he, distrusting the judgement of Alaafin Atiba, refused to recognize Atiba's choice of successor at the death of the Oyo king. After several attempts to make peace, Adelu, the new king of Oyo, and heir to Atiba, got the highly skilled Ibadan army to destroy the town of Ijaiye. Kurunmi lost seven sons to the war, and he died presumably by eating a poisoned cola-nut as ordered by his chiefs. His life was the subject of a play by Ola Rotimi, Kurunmi, published in 1971 and staged at the National Theater, Lagos in December 2009.