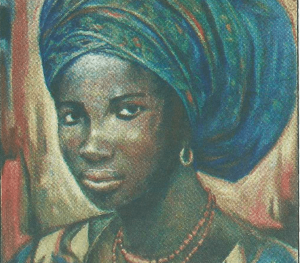 Kolade Oshinowo; Nigerian romantic artist, Oshinowo is one of the most classical visual artists in the country. Oshinowo was born February 6, 1948, Ibadan, Oyo State. He was educated at Macjob Grammar School. Abeokuta, 1961-63, Ibadan Grammar School, 1964-66, and Ahmadu Bello University, Zaria, 1968-72. He was appointed Lecturer II at King's College, Lagos, 1972; Assistant Lecturer (Painting), Yaba College of Technology, 1974 and Principal Lecturer in Painting, 1986. Kolade Oshinowo was  Head, Department of Fine Art, Yaba College of Technology from 1987[i]. Oshinowo's  belief is that habitual wholesale copying from photographs hampers the growth of the art student or even the professional artist. He discouraged his students as much as possible from the practice[ii].
Once he settles the matter of format and structure, Oshinowo's painting normally started with his staining the canvas with selected colours. He did not like painting directly on the white surface. Once it's dry he commenced the sketch with a piece of charcoal leaving details as much as possible. Once he is convinced about the composition, he started application of colours. If it is mixed media, painting with texture/college, glue is used as adhesive for fine sand, wood dust, tissue paper, fabrics, ropes, and strands of native sponge. Often, he started the painting with acrylic to establish forms, composition and colours. When satisfied, he did further drawing into the painting and finish the painting with acrylic or with oil paint. Oshinowo had a habit of letting some areas of the charcoal drawing show through the painting. The painting is then subjected to days or interrogation, reviews and critique. Amendment and adjustments were made where necessary for a period of time before the painting is finally signed.
Oshinowo prefer dramatic use or colours rather than intensity. He considers quality the most important thing in any work, either abstraction or realism. Oshinowo tries to capture in his paintings, the female body which he believes represents the beauty and the challenges of motherhood. He holds the view that the female is endowed with a form that is as complex as it is beautiful. The woman also adds to her beauty by wearing various forms of head gear and adding accessories such as ear rings, necklaces and bangles of various sizes and materials.
Kolade Oshinowo was among the working artists at the The Living Legends initiative to preserve, document, promote and celebrate distinguished Nigerians.  At the birthday event of former Nigerian Head of State, General Gowon,  organised by the Nigerian National Petroleum Corporation (NNPC) in collaboration with Olu Ajayi Studios, Kolade Oshinowo kept his drawing board on the easel few distance away from the general. Expectedly, he drew from one position all through and churned out more works[iii]. Oshinowo's works were also showcased at the Infinite Treasures II alongside twelve other heroic artists at Terra Kulture in Lagos[iv].
[i] Who is Who Newswatch
[ii] NATION May 5, 2013
[iii] NATION December 10, 2014
[iv] NATION December 26, 2016