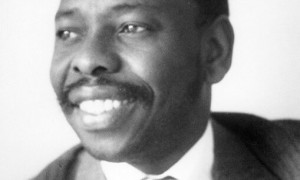 Ken Saro-Wiwa; Nigerian Environmentalist and author. Ken Saro-Wiwa was the President of the Movement for the Survival of Ogoni People, MOSOP an organisation founded to defend the environmental and human rights of Ogoni people of the Niger Delta. Oil of commercial quantity was found in Ogoniland in 1958, but it also created political problems, environmental degradation and corruption.
To register his opposition to the activities of the Anglo-Dutch oil giant, Shell, Saro-Wiwa organized a  peaceful protests involving tens of thousands of Ogoni people in January 1993. His demands were increased autonomy for Ogoni people, fair share of the proceeds of oil exploration and compensation for the environmental damage to Ogoni land. From 1992 he was arrested, released and rearrested, therefore commanding the attention of the international community to the plight of the Ogoni people. In 1993 when Shell was forced to stop operation, ogoniland was occupied by forces of the Federal Government. In May 1994, Saro-Wiwa was arrested once more and tried for the incitement to murder following the deaths of four Ogoni elders. Though Saro-Wiwa pleaded innocence, he was imprisoned for sentenced to death by a tribunal widely believed to be unfair.  In spite of the protest of defense lawyers who withdrew from the case citing General Abacha's bias, and warnings from eminent statesmen globally, Saro-Wiwa and his comrades were hanged on November 10, 1995. Saro-Wiwa's death ignited international outrage leading, to the immediate suspension of Nigeria from the Commonwealth of Nations.
Place of Growth
Saro-Wiwa was born on 10 October, 1941 into the polygamous Anglican family of Jim Beeson Wiwa at Bori in Khana Local Government Area of Rivers State.
Childhood
Ken proved himself as a bright student, winning a government scholarship at the age of 13 to study at Government College, Umuahia. He later became a reputed
Writing & Activism
Saro-Wiwa emerged as a major writer in his mid-forties, with his first three major works – Songs in a Time of War (1985), Sazaboy and A Forest of Flowers, a collection of short stories. Through his writings, Ken became more active in attracting international attention to the backwardness of the Ogoni people. Saro-Wiwa believed himself more than a story teller or teacher who X-rays society's weakness but one to actively involved in shaping its present and future. Saro-Wiwa's literary style began to develop when he was editor of Horizon, the magazine of the English Department of University of Ibadan. After his exit from public service, Ken delved into private business, engaging in retail and real estate ventures. He also went into publishing, with Saros, a company he owned, publishing most of his books. His major breakthrough came with a radio play, The Transistor Radio, in 1972. He later, in the 1980s, wrote, produced and sponsored a sitcom series on the national network of Nigerian Television Authority, NTA, called Basi and Company. He produced more than 150 episodes. A prolific writer, at the peak of his career he wrote and published seven books in one year[i].
[i] The News March 31, 2008