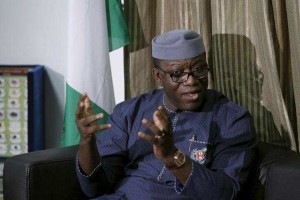 Kayode Fayemi was a pro-democracy activist of the Generals Babangida and Abacha eras, later joining politics to become governor of Ekiti state in 2010 and a cabinet member of President Buhari government in 2015. Fayemi was elected governor the second time in 2019.
 
Growing Up
Born in Ibadan in 1965, with his formative years spent in the quarrelsome Ibadan times and under the Catholic faith of his civil servant father and trader mother, young Fayemi's base was changed to Ado-Ekiti with the creation of Ondo State in 1976. At nine he had developed a ferocious reading habit and interest in politics facilitated by his father's access to many brands of newsprints in his duty at the Ministry of Information of the Western regional government. When his father's station was moved the Ekiti division of the new Ondo State, he was arranged for enrollment in the upcountry but surprisingly diverse Christ School Ado, an Anglican possession. Inspite of the school's extreme disciplinary ethos, it became for him a place of delight and represented his break from the Catholic church, which terminated in increased skepticism of organized religion in his undergraduate years.
During Fayemi's higher school at Federal School of Arts and Science in Ondo, he participated in making journals- a skill which will feature prominently at his University of Lagos days where he will be awarded with a degree in History and International Relations. During his Masters program at Obafemi Awolowo University Ile-Ife he met Bisi, a postgraduate student whom he married in 1989. After Fayemi's program at Ife he took on a journalism career, which started sluggishly. The plan to go for a doctorate in war studies abroad had hatched in his mind following given Bisi's decision to return to the UK where she was born after failing to secure good employment. In January 1990, Fayemi commenced his study at King's College London, under the supervision of a man specialized in Mediterranean and Middle East security. After a couple of years, Fayemi had reneged on his decision to be apolitical and had absorbed himself in overseas opposition to General Babangida's distrusted regime in Nigeria. Kayode's pro-Palestinian views, Marxist and rather unintelligible writing made him lose favour with his supervisor and almost cost him his doctorate degree, which he eventually obtained in 1994.
 
NADECO
Diaspora struggle for democracy which Fayemi occupied himself with was met with lukewarmness at the beginning when the New Nigeria Forum was formed in 1992. Babangida, the military president, coming from a secured position of international fame was not the man to oppose. Fayemi worked underground in coordinating a system which exposed this diabolism. With the annulment of the June 12 1993 election which would have ushered in a civilian government, Fayemi's group was vindicated in their assertion that the military government was insincere about the planned transition to civilian rule.
During General Abacha's oppressive rule, Fayemi in May 1995 got an invitation from Professor Wole Soyinka to serve under a sister pro-democracy group to NADECO. Under this platform emerged Radio Kudirat- an improvement over a project Fayemi helped execute earlier in that year. The Abacha junta's killing of activist, Ken Saro Wiwa only served to make international support for the undercover opposition radio a moral obligation. With the death of Abacha, followed closely by the swearing in of a democratically elected president, Fayemi fully returned to Nigeria with his family. Through his career he made a living working as a professor of security studies, adviser to the Nigerian government, ECOWAS Secretariat and Parliament, and United Nations Economic Commission for Africa.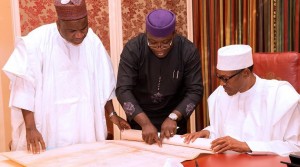 Politics
In 2007, he stood for election for the governorship of his home state of Ekiti under the Action Congress (later metamorphosed into All People's Congress). After forty-two months of legal struggle in contest of published election results, Fayemi reclaimed his right to the seat of the Ekiti state government. As governor, he positioned institutions to ensure efficiency and prioritized capital expenditures. His unpopular drive to boost Ekiti state's treasury at people's expense denied him a second term as populist Ayo Fayose who had been impeached as governor eight years before defeated him in the election of 2014. In 2015 he was appointed by President Buhari as Minister of Solid Minerals Development.