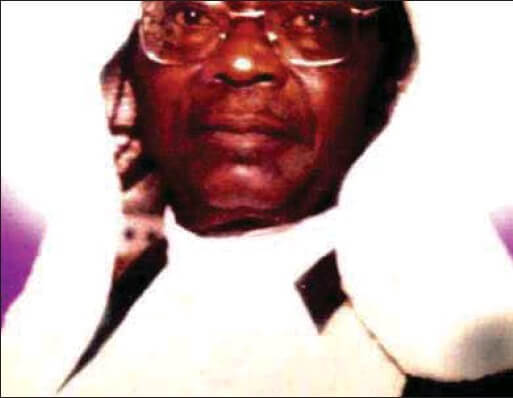 Kayode Eso; Celebrated Nigerian jurist who made history in handling one of the most complicated criminal trials in history. Eso was part of the body which shaped the laws and the policies of the old Western Region. He was legal drafts man in 1961, principal state council in 1963, and principal crown counsel in 1962. In 1965, he became the acting judge of the High Court of Western Nigeria, few years later, he was appointed to the Bench of the court of Appeal Western Nigeria as Justice. On January 1978 he was appointed chief judge of the Oyo state judiciary, a position he held until 1990, when he was appointed to the bench of the Supreme Court of Nigeria. Kayode Eso was one of the 8 panel of judges that handled the Awolowo v. Shagari case.
Origin
The Eso family name was the title won by Kayode's grand- father, Ifaturoti as a general in Ogedenbe's army in the war of 1870s and 1880s. The adoption of this war title as a family name happened because young Kayode inquired into the family naming patterns as he wondered why he and his siblings bore different surnames, hence the Eso family name came.
Places of Growth
Justice Kayode was born at Ilesha in Osun state on the 18th of September, 1925. He is the first surviving son of his parents, Akomolafe and Omotola Eso.  He lived with his siblings and cousins in his family house. He grew up and spent his childhood days in Ilesha.
Childhood
Once Kayode was weaned his father decided to train him at home away from the effect of the women. He wanted to instil the drive of discipline and hard work in him. He did not get a formal education until the age of 7 when his hand could touch his ears. He started school in 1933 in a school close to his house, the African Church School of Aragan, then he went to Methodist primary school at Otapete not far from his father's shop. Kayode left the school the moment his father discovered that non- Methodists pay higher than Methodists. He went from there to Holy Trinity Primary School after which he moved from to Saint John Iloro where he did standards 5 and 6. Throughout his stay in the primary school, he devoted his time to his studies and this devotion mad him stand out from the crowd. He also went to Ilesha grammar school and graduated in 1944
Family
Eso got married to a Nigerian girl who has lived most of her teenage life in the Britain and was currently studying for a degree in nursing at the time they met in 1954. They had two children together.
 
Travels
Eso's trip out of Nigeria was for his studies. However on this trip he stopped at Liverpool before continuing to his destination, Cambridge. Eso also travelled to Maghaliesburg for a seminar organised by the University of Witwatersrand and ANC. He also travelled to the Gambia on official duty in 2001. He went to Britain in 1967 where he was a guest to the British government. He travelled to England and Scotland to enable him study the way things were conducted in the court, he travelled to the USA in 1968 on the invitation and sponsorship of the State department, this visit expanded to the shore of Puerto Ricco. In 1977, he embarked on a journey round the world in company of his wife and children just so he could learn from the socio political, cultural and legal systems of other countries. The countries he visited were: England, Switzerland, Greece, Egypt, India, Pakistan, Thailand, Hong Kong, Japan and the USA.
Education
In the 1940s, 24 years old Kayode Eso set foot in England this was the beginning of the pursuit of his dreams. He attended Trinity College, Dublin where he obtained his Bachelor's degree and his Master's degree both in Law with a specialisation in Legal science in 1953 and 1956 respectively. He was called to the English bar in November of 1954.
Judicary
After his secondary school Kayode had to work to raise money to at least pay for part of his academics abroad, so he got a job in the audit department of UAC, being a spontaneous person, he soon got bored with his previous job and requested to go to the ministry of health as the sanitary inspector, then he started his own business which seriously thriving at the time. At the time he was to go for 6 months training in Warri after which he would resume his office as the sanitary inspector, he would be making plans to travel out so he decided to teach in a school while he waited for his admission. He settled in Jos and also began his private practice there in 1955. While at it, he offered free services to the Yorubas in his community. Kayode became a defender of people who were victimised by various authorities in the region. This also influenced his relationship with the Bar and Bench, he joined the hilltop club meant for top colonial officers, at age 35 he was already a very successful lawyer in the private practice.
 
Contemporaries
Kayode Eso's contemporaries were justices Adejumo , Kester , Fatayi Williams , Somolu, Oyemade , Delumo , Ademola  and a few others who were already serving the federal high court of Nigeria before he was appointed as a judge in the high court.
 
Motivation
The strong will of his father became a strong source of motivation for Kayode who started considering a Law degree. Another motivation was the instance of the case he had in court which he hired a lawyer for after that experience, he discovered that he could do better than the lawyer he hired. This became a very strong resolve for him to become a lawyer.
 
Accomplishments
Kayode Eso received the honorary doctorate degree ( LL. D), he was also CON and CFR , all national awards given to well deserving compatriots. At a time he was the pro- chancellor of the University of Benin.