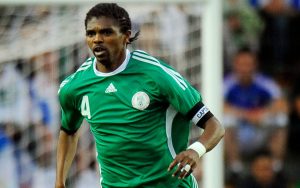 Nwankwo Kanu : Nigeria's most-decorated player and one of the few players to have won the Premier League, FA Cup, Champions League, IUEFA Cup and an Olympic Gold Medal. Time and again, comparison of Kanu who ended his international career following Nigeria's exit from the 2010 World Cup in South Africa with any budding talent is inevitable. His sublime skills, dazzling passes, and sheer magic dribbling was described as beyond the ordinary. His striking has also been described as sleeky and unpredictable on the pitch[i]. Kanu has an unusual approach to the game and a distinctive style. He holds the most valuable player award, Japan 1993 Under-17 World Cup, best attacker, Afro Asian Cup in 1994 and African footballer of the year. Confederation of African Football, C.AF, in 1994 and 1997. He also won European Super Cup: 1994/95 and World Clubs Cup, 1995, with Ajax Amsterdam, Holland, where he also won the prestigious European Champions League and a couple of league trophies.
Kanu was born 1976 in Amakohia, Imo State and he schooled at the Holy Ghost College, Owerri. As a boy he inherited the nickname Papillo from his big brother when he began to distinguish himself in football, soon after he was discovered by Iheanyi Ajaero on the street of Owerri. Kanu began his professional career with Iwuanyanwu National Football Club of Owerri. He captained Nigeria's Uunder-23 Dream Team at the Atlanta 1996 Olympic Games and was a member of Super Eagles Squad to Korea Japan 2002 World Cup. Later, he played for Arsenal Football Club of England in the English league. Like he did his brother, Kanu also praised Stephen Keshi for his leadership in the Super Eagles[ii] and he had derived from them his preference for the number 4. He played until early 2000s for Arsenal Football Club in the United Kingdom. Kanu at 28 years wedded Amarachi Onyeador, a beautiful 18 year-old student of the Abia State University, Uturu, at the Presbyterian Church of Nigeria, Owerri, July 3[iii].
Arsenal Team
In the last two seasons, Kanu's club career has faced difficult times. He lost his place in the team, making only few appearances as a substitute. Things got so bad that at a time, the club purportedly offered to pay him £1 million for him to leave the club as his contract was yet to expire, but he chose to fight for his place in the team. And it paid off. His club won by setting a new record in the English premiership, by not losing a single match throughout the season. Kanu was part of the history-making team.
National Team
Kanu's contribution in the national team was a matter of intense debate. While his critics say he is too stylish and lackadaisical in his game, resulting in his inability to score goals in the last three editions of the African Cup of Nations in which he featured, a more amenable review shared that he delivered the best of passes that split any defense to place his team mates at an advantage, easily citing his pass to John Utaka when the Super Eagles confronted Cameroun at the African Cup of Nations in Tunisia.
Heart Condition
At the peak of his career when everything was going fine, and when he just joined a new club Kanu was diagnosed with a heart problem. He had never felt dizzy or tired before this time. He refused to heed the advice of friends and experts to quit the game but preferred to go under the surgeon's knives. He successfully had a heart surgery at a heart surgery, at Cleveland Clinic Foundation, Ohio, United States in 1997[iv]. Soon after recuperating from the operation, he bounced back to join Arsenal FC of England, where he in one of the league matches he single-handedly demolished the well-organised Chelsea defence to score a hat-trick.
Charity
Owing to personal experience, Kanu Nwankwo founded the Kanu Heart Foundation, KHF, with the aim of establishing a specialist hospital in Nigeria where children with heart problems can be treated. While his vision took more time than anticipated to get actualized due to limited fund, Kanu extends his charity to despondent children and their parents, operating hundreds of children with a heart condition in Israel and other countries. And each operation cost N12 million.
Kanu was appointed Charity Ambassador of the Kaduna Polo Club Fifth Chukker in 2013. In that capacity, he visited schools to give lectures[v]. As Ambassador of UNICEF and Nigeria Football Federation (NFF) Kanu began his duties with a visit to victims in Mubi North Local Government Area of Adamawa State and Kaduna, where he used sports to preach peaceful co-existence among Christian and Muslims[vi]. Since the inauguration of his Kanu Heart Foundation, Kanu raised money to sponsor expensive surgical operations for children overseas; an important step to helping humanity which drew the attention of the Dubai-based property firm, The First Group (TFG) that donated $30,000 to the foundation. Kanu alongside other world-class football stars, Michael Owen and Ukrainian Andrei Schevchenko are ambassadors of TFG[vii].
[i] TELL July 5, 2004
[ii] NATION May 26, 2013
[iii] Newswatch July 26, 2004
[iv] Insider, August 2, 2204
[v] Punch June 8, 2013
[vi] Guardian June 17, 2013
[vii] Guardian November 7, 2013