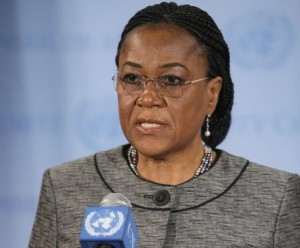 Joy Angela Ogwu; professor of International Relations, was the first female Director-General of the Nigerian Institute of International Affairs (NIIA), which was established on December 13, 1961 as the foreign policy think-tank of the central government. Ogwu was conferred in 2004 with the Order of Federal Republic of Nigeria (OFR).
Born on August 22, 1946, Ogwu had her early education at American Baptist Day School, Port Harcourt, 1953-1959; Abimbola Memorial Day School, Yaba, Lagos 1950-1953 and Holy Rosary Secondary School. Ogwu had her university education at the State University, New Jersey, United States of America from 1970-1974, She had her post graduate school at Rutgers University, New Jersey also in America (USA), from 1974-1975.
Career
Before her appointment as DG, NIIA, Lagos, Ogwu was a research professor of Political Science and Head of the Division of International Politics at the institute. Over the years, she served as one or the Directors of the Governing Board of the Centre for Advanced Social Science (CASS) and before long, the Board appointed her as its chairperson. In 2003 she became a member of his Advisory Board Global Disarmament which she began to chair three years later.
Ogwu lectured at the Command and Staff College, Jaji from 1978, and the National Institute for Policy and Strategic Studies (NIPSS) from 1985. She also gave courses at the Administrative Staff College, ASCON, Badagry from 1987 and was also a founding staff of the National War College. She was part of the  Nigerian delegate to the United Nations General Assembly from 1988 to the 10th United Nations Special Session on Apartheid in 1990. She also served on the multinational United Nations Observer Mission in South Africa (UNOMSA), to supervise the transition to majority rule in 1994.