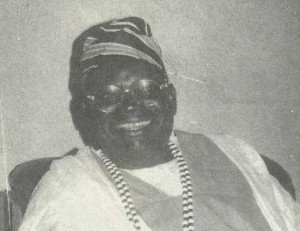 Joseph Kennedy Waku; Nigerian politician who was senator in the Obasanjo years. His call for a military coup left him in an unenviable minority[i]. Waku was a recurrent decimal in Benue politics since the Second Republic. He was a member of Dr. Nnamdi Azikiwe's Nigerian Peoples' Party, NPP. In 1983, the year of Umaru Dikko's "landslide", he was elected into the Benue State House of Assembly. He sympathised with the National Party of Nigeria, NPN, and was one of the Northern die-hards who disagreed with the caucus of the old NPN, over its zoning formula. By that formula, a Southerner would have emerged as president by 1987 and the favourite candidate then was Vice-President Alex Ekwueme. Waku and some others were not happy with this arrangement.
Many coups later, Waku called for a coup to displace President Obasanjo. He had worked this second coming, participating in the Babangida transition when he was a member of the Social Democratic Party, SDP. That experiment collapsed, he quickly joined the new Abacha train. He is a senator in 1998, but could not take office because of the untimely death of Abacha. He later reclaimed his lost ground and found himself in same party with Obasanjo[ii]. Waku died 3 February, 2019.
Places of Growth
Waku was born June 12, 1946 Waku Village, Guma LGA, Benue State. Waku started school at Obid Primary School, Nasarawa State.
Education
Waku went to London Institute of Public Relations. Member, Nigeria Institute of Public Relations.
Experience
Waku was the Director of Research and Publicity, Nigeria Peoples Party, NPP, 1979; member, Benue State House of Assembly, 1983; Director of Publicity, defunct Nigeria Peoples Party, 1979- 82; Director of Publicity, Dr. Nnamdi Azikwe for President; National Director of Operation, Saraki for President, 1992; Benue Coordinator, Abiola for President, 1993; Zonal Leader, Abiola for President, Benue, Plateau, Kogi, and Kwara States, 1993; Chairman, Benue State Council of Arts and Culture ;PubIic Relations Consultant; Elected Senator, Federal Republic of Nigeria, from 1998[iii].
[i] Tell February 14, 2000
[ii] Tell 7 February, 2000
[iii] Newswatch Who is Who