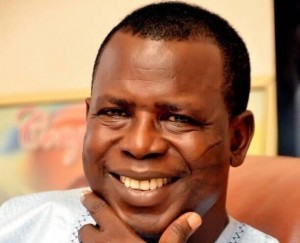 Joseph Adelakun; fondly called Ayewa, is a gospel singer, songwriter and televangelist. While still a moslem, Adelakun believes he heard the voice of Christ in his dream. This first spiritual epiphany came the night he first tried the Indian hemp. Later that day, while sitting among friends he heard someone say, "I want to use you for my glory." He tried to make light his new experiences but gradually he began to attend church programmes and began to have more spiritual encounters.
Ayewa was born 12 June 1949 to Salami Adebayo of Saki town in Oyo State. He did not go to secondary school because his father died in August 1964, the year he proposed to go to Olivet High School. He could not take up his admission due to lack of money. He would later in life teach himself to speak in English and as Pastor Matthew Ashimolowo admonished him, how to develop himself by investing in books. Joseph's father had five wives and 16 children and after his death there was no provision for children education or training. Each had to go their way. When asked, he disclosed he wanted to be an electrical engineer to the dismay of his mother who believed it was a dangerous venture. He was taken to Kareem Electrical Engineering Service in Ogunpa, Oyo State to become an apprentice. Ogunpa could be likened at this time to the rough parts of Ajegunle and Mushin in Lagos. His elder brother paid for his apprenticeship and he spent about two years there from 1966 till 1968 and when he left Kareem Electrical Engineering Service. He immediately joined the Nigerian army through one of his friends. He was posted to Nigerian Army Engineers due to his skills as an electrical engineer. He smoked cigarette and through the influence of some soldier friends began to smoke Indian hemp. His interest in Christianity grew in 1972 when he was posted to the Nigerian army engineering regiment in Ede, Osun State[i].
The 40th anniversary ceremony of Ayewa's gospel music was attended by renowned pastor of the Redeemed Church, Enoch Adeboye, and the president of the Christ Apostolic Church, Abraham Akinosun who he regarded as mentor[ii].
[i] Punch 14 April, 2017
[ii] Tribune 25 June, 2017