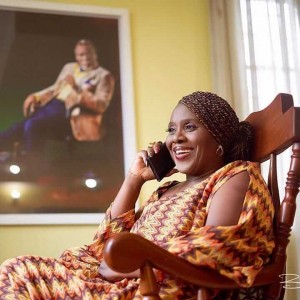 Joke Silva; Celebrated actress of the Nollywood. Joke commenced acting at the University of Lagos as part of the cultural centre, rehearsing plays directed by  Prof. Bode Osanyin. She also performed at  the Goethe Institute and British Council. She did more theatre and quite a lot of television. Joke Silva  was adjudged the best actress at African Movie Academy Awards, AMAA 2006[i]. She was also recognised in 2013 by Mo budu owned Ebony Life TV for her contribution to the development of the film and TV Industry in Africa[ii].
Both Joke's medical doctor mother, and her lawyer father  enjoyed the arts. Her father's cousin was Uncle Jab Adu of The Village Headmaster and Adio Family fame. Joke did not go to the university until years later. She worked for quite a couple of years, already married and expecting a second child when she went to UNILAG to study English. She met Olu Jacobs, also in the industry, at the National Theatre whilst working on the production of Jero's Metamorphosis in 1986. Her sister, Olabisi, is known in the circle of visual artists[iii].
Joke Silva was born in 1961. In primary school, she was part of a  stage production called The Merry Peasant or The Stranger. It was a musical and  she played the Merry Peasant. She continued performing in secondary school, Holy Child College, Obalende and when she went for my A levels in Bournemouth. Joke also sat for the London Academy of Music and Dramatic Arts examinations. She did that up to gold medal. While a kid, her parents enjoyed watching her perform.
 
Acting Career
Joke performed with the University of Lagos, went to Nigerian Television Authority, Federal Radio Corporation of Nigeria and from there to perform at the National Theatre. Soon after, she went to train in England. She went to the Webber Douglas Academy of Dramatic Arts, London. Joke Silva returned home after a stint at The Royal Court Theatre. She also did a little bit of work with the British Broadcasting Corporation. Joke Silva got her career breakthrough in the early 1980s and in three different films; Owuro Lojo, which did exceptionally well and brought her to the notice of the Yoruba audience. There was Violated, which brought her to the notice of the English-speaking audience and then, there was theatre which sealed her professionalism and acumen; The King Must Dance Naked by Fred Agbe[iv].
[i] TELL March 26, 2007
[ii] Punch July 10, 2013
[iii] The News April 21, 2008
[iv] Punch October 9, 2016