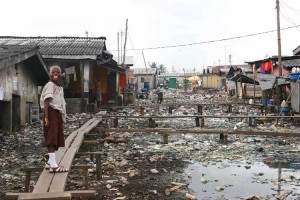 JMJ; community in the backyard of Ajegunle that was known for decades as a jungle city. Stories had it that JMJ was populated mostly by whitemen in the pre-colonial and immediate post colonial years, hence its popular acronym amongst people in Ajegunle – European Quarters. JMJ is the deeper, dingier and rougher jungle where the alleys and labyrinthine routes are as twiny as a puzzle and a first-time visitor is sure to get lost, if unaccompanied, much like the infamous Makoko, or worse. The major bus terminal nearest to JMJ is the popular Boundary (Ajegunle) Bus stop. From there, a first time visitor may negotiate his way via a bus, tricycle, motorcycle or foot. It is a sprawling community is on a tributary of the Lagos Lagoon and plays host to a vast majority of Ilaje, a Yoruba ethnic group from Ondo State, Nigeria; with a little mixture of the other tribes.
JMJ shares boundary with Araromi Community. Both Tolu and Araromi, as well as the larger part of Ajegunle right to the Berger end of Kirikiri Road fall under Ajeromi Ifelodun Local Government. Just a gaze across the water is the more illustrious Apapa industrial and residential area. Visitors could also access JMJ via Apapa, crossing the nearly 100 metres water channel. Even as Apapa has lost most of its plush and opulence, it is still a far cry and a big class difference remain visible between the two neighbourly community. Many agree that it is because of Apapa that the Ajegunle population rose uncontrollably in the 1950s and 60s; the majority of the inhabitants working either as industrial, office or domestic staff in the more illustrious area.
JMJ originated from an Ilaje man, Joseph Moaupe Johnson who was given the contract to construct the Lagos National Stadium in the 1960s, as a minister. Due to his prominence and influence, the stretch of land by the waterside now called JMJ, was leased to him. Ilaje people from Ilaje-Ese-Odo in Ondo State trooped into the area in droves and in no time formed a community, for their love for living around the river area to engage in their preferred professions of fishing and fish mongering. The name JMJ eventually stuck because it was he who was allocating the space to the people.
The first thing noticeable as visitors get nearer and deeper into JMJ is the filth. The JMJ community is a densely populated one, with poor patterned building plan; hence their constant predisposition to environmental health issues. There are several cases of malaria, gastro-enteritis and other illnesses; and these can be traced to the poor environmental layout of the community[1]. With some improvements over the years, most of the houses were no longer of planks and wood; but of cement block, though poorly constructed and still in the lumped up format, with no consideration whatsoever to planning motorability or ventilation.
[1] NATION October 20, 2016