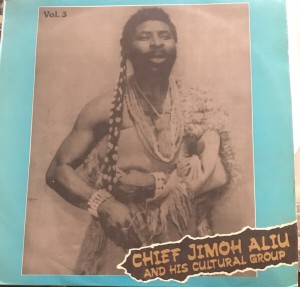 Jimoh Aliu; Actor and producer. In 1991, Aliu was the first Nigerian to present a Yoruba film at the Rio Cinema, London. Following this, he also released Arelu and Yanponyanrin. Arelu was such a success that the streets would be deserted when it was time to air it. Born November 11, 1936, Aliu was just 23 when he joined Hubert Ogunde Theatre. With the rest of the group, he toured most of the towns in the old Western Region, performing on the stage and the cinema. In 1966, after a tutelage of seven years, he left the group to form the Jimoh Aliu Concert Party.
Seeking adventure, Aliu joined the Nigerian Army, 1967, at the age of 31. While there, his theatrical nature gave him away as a man best suited for the arts rather than arms. That trait was soon noticed by his superiors who provided him with a vehicle to tour and communicate with soldiers in war-affected areas. Some of the plays he acted as a soldier include Arugbo Soge, Fesojaiye and Ojuenimala. When he eventually left the army in 1975, Aliu settled down as a full-time dramatist playwright and producer. Some of his wave-making works in the early 80s include Atoka, the Yoruba photo-play magazine. Atoka, which was in series, had a wide readership with its engaging prose and clear pictures.
Aliu also performed in a number of radio plays, including Afopina, Igba-Oro, Agba-Arin, and Maboreje, but it was Igbo Olodumare, his television play commissioned by Yemi Farounbi, veteran broadcaster, that shot him into limelight. The play, an adaptation of D.O. Fagunwa's novel, established Aliu as a professional. The play was aired in all states in the South-west. Some of his films include Ija Ominira, Kadara, Fopomoyo Ogun Ajaye, Aropin Teniyan, Ayaruno, Efunsetan Aniwura and Ireke Onibudo. Aliu won the 1991 Best Group Award in Britain and was honoured with the Officer of the Federal Republic, OFR award[i]. Jimoh Aliu died in September, 2020 at 86.
[i] Tell November 27, 2006