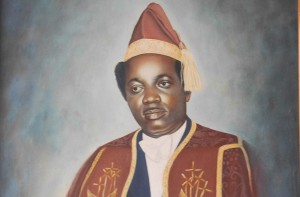 Jacob Festus Ade Ajayi; Distinguished Historian, university professor, and one-time Vice-Chancellor of the University of Lagos. He became a visiting professor of History, University of California, Los Angeles Summer  School, in 1963. He is a fellow, Ghana Historical Society, GHS, Overseas Historical Association, OHA. Ade Ajayi was also foundation fellow of the Historic Society of Nigeria; member UNESCO Director General Advisory Committee; member, Board of Trustees National Order of Merit: Vice president, Royal Africa Society London; Bobape of Ikole-Ekiti; Onikoyi, Nigerian National Merit Award winner and Emeritus Professor of History. Ajayi at his 80th birthday lecture was described by Governor of Ogun State, Gbenga Daniel as a reference point in the history of Nigeria in terms of courage and disposition[i].
Born on May 26, 1929 at Ikole-Ekiti now in Ekiti State, Ajayi was the Vice-Chancellor of the University of Lagos from 1972-1978. He attended the famous Igbobi College, Lagos, where he graduated in 1946 at the age of 17. He proceeded to the University College of Ibadan for his first degree and the University of London for his post-graduate studies. Ajayi married Christie Tolaigbe Aduke Martins 1956, and raised one son, four daughters[ii].
When in 2004, Oba of Benin, Uku Akpolokpolo Erediauwa  published his autobiography in which he stated the controversial Benin version of the identity of Yoruba progenitor, Oduduwa, the Yoruba Council of Elders, YCE, (Igbinmo Agba Yoruba), reaction was to commission Jacob Ade Ajayi, as an eminent professor of History to do a rebuttal of the author's story[iii]. JF Ade Ajayi was the author of History of West Africa (1974), Christian Missions in Nigeria, 1841-1891; The Making of A New Elite. He also edited General History of Africa.
[i] Insider May 26, 2003
[ii] Newswatch Who is Who
[iii] TELL August 16, 2004