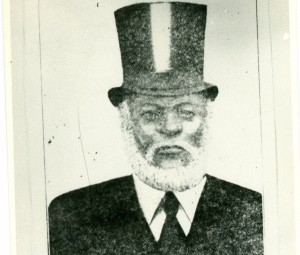 James Pinson Labulo Davies , called Captain JPL Davies was the wealthy Lagos businessman and merchant of the 19th Century who pioneered cocoa farming in West Africa. Davies is often described in literatures as the most colourful Lagosian of his time. Born in August 1828, Labulo schooled at the CMS Grammar School in Freetown before joining the British Navy as a trainee in seamanship. JPL Davies was the father of Victoria Davies, who married the St. Andrews trained medical doctor, John Randle. Exploits of his life was celebrated in a book authored 108 years after his death by Professor Adeyemo Elebute.
As a lieutenant, Labulo Davies was part of the squad on board the HMS Bloodhound which bombarded Lagos, sending Kosoko, usurper of the throne of the favoured king Akitoye, to exile in Epe. On this December 26 1851 offensive in which three lives on the side of the British were lost, Davies got wounded alongside ten others. Apparently dissatisfied, he left the Navy the following year. He captained merchant vessels owned by Saros, navigating the coast between Freetown and the Niger Delta. Using this opportunity, he traded in Palm Oil and within a few months, purchased two condemned slave ships at auction, shipping directly to Britain from Nigeria.
Davies settled with in Lagos in 1856, working as agent for a London mercantile firm. He opened his business the following year that brought dozens in his employ, shipping cotton and palm oil on his own boat, and receiving consignment of import from Britain. Davies secured strong connections in Britain, upon which he leveraged to advance his business. By 1862, he had become successful and cultured enough to be recommended by the Queen Victoria of England to wed her goddaughter, Sarah Forbes Bonnetta who was also Yoruba. His wedding to Sarah, originally named Aina, was solemnised at Brighton by the Rev. Henry Venn who was the honorary secretary of the Christian Missionary Society in London.
 
 
Davies returned with his wife to Lagos where with his bosom friend, Samuel Ajayi Crowther, he collaborated to form The Academy, a social and cultural centre for public enlightenment. A similar passion apparently had encouraged him onto the provision of the seed funding with which Nigeria's first secondary school, the CMS Grammar School in Lagos opened in 1859. When in 1872 he was nominated as unofficial member of the Legislative Council he became, together with G. Hutchinson, the first Africans to be so elevated. His business suffered a major setback in 1875 and he became bankrupt, forfeiting his Lagos Island land to the government.
While traversing the Atlantic in 1879, Davies obtained cocoa seeds from a Brazilian ship off the island of Fernad Po. For the next twenty years he was responsible for all cocoa shipped from Lagos. The spread of this highly valuable crop arguably commenced from his farm at Ijan, close to Agege. He also planted kolanuts in 1882, which was before then transported across the southwest region but not cultivated. Labulo Davies died at home in 1906.