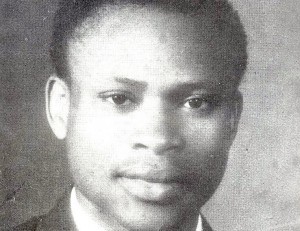 Isaac Adaka Boro was a Minority rights activist and hero of the Nigerian Civil War on the side of the federal government, who paradoxically was himself a former secessionist, declaring in February 1966, an independent state of the Niger Delta People's Republic. Boro was born in 1938 in the town of Oloibiri where oil will be first discovered in Nigeria in 1956, bringing him to a calling that became the bellwether of the oil community struggle against the negligent state and corporations.
Boro, after working three months as a teacher joined the Nigerian Police force and was, after his unfortunate dismissal enrolled at the University of Nigeria Nssuka where he studied Chemistry and participated in student politics. Chivalrous and quick-witted, his natural temperament will be tailored towards a passion accorded by his nation of birth- the Ijaw, a people who were sandwiched politically between the larger neighboring peoples of the west and the east, leading to their deprivation and making them in Boro's word, strangers in their own country. Just over a month after the coup that brought Agunyi Ironsi to power, he led a guerrilla warfare with some one hundred and fifty volunteer fighters who actually held their own against the police for twelve days. Boro's army was routed by federal forces and he was tried for treason and jailed. During his trial he had remarked "there is nothing wrong with Nigeria but the lack of mercy in our activities."
With the turn of events, Lt. Col. Yakwubu Gowon who succeeds the murdered Head of State, Ironsi had a major rebellion in his hands to quell. Boro, being a minority activist, became an asset in the conflict with secessionist machinery, dominated by Igbos, who had co-opted Boro's smaller constituency in their break away Biafra republic. Boro joined the Nigerian army as a commissioned officer, and served under the famous Third Marine Commando Division of Col. Benjamin Adekunle, alongside some one thousand men from his state of Rivers. In spite of their hurried training, their understanding of local language and of the difficult terrain came in handy.
In May 16 1968 Boro was killed in Okirika, "apparently,' in Obasanjo's war account, 'by a fleeing rebel soldier whom he encountered during a private visit." Forty-five years later, his remains were exhumed from Ikoyi Cemetery to be reburied in Yenagoa. When in 2004, the Ijaw nation stood up to the Federal Government with demands, Boro was honored with the staging of the protest in his hometown of Kaiama, which signaled the beginning of a decisive phase of the Niger Delta conflict.