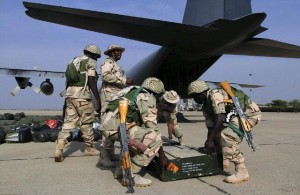 Interventionism is defined as the policy or doctrine of intervening, especially government interference in the affairs of another state or in domestic economic affairs[i]. Nigeria has shown the will to intervene in the affairs of other sub Saharan African countries since independence. A large population, and by extension, a large market and then oil being its capacity to play the brother's keeper role. From Congo to Liberia and from Angola to Sierra Leone, Nigeria was always on call even if it has to suffer in the process. During the Angola struggle for independence the government of Murtala Muhammed moved fast and threw its weight behind the Augustino Neto – led Popular Movement for the Liberation of Angola. The MPLA eventually took over the government from the departing Portuguese. But Nigeria does nothing in half-measures. The government supported that decision with a lavish amount of $20 million (about N200 million). In other Southern African countries like Zimbabwe and Namibia, the Nigerian government had displayed itself as an affluent nation. At one time workers were even compelled to donate part of their meager income to help fellow Africans. Wealthy individuals donated millions of naira or other material things to this cause of freedom.
For the government, when the money is not readily available, it makes pledges. President Shehu Shagari pledged N10 million to Namibia at independence in 1980. Nigeria also promised to rebuild the African National Congress house in Harare which was destroyed by Pretoria's racist soldiers during one of their raids on Zimbabwe. The government also pledged to lodge another $15 million, about N-150 million with the African Fund from which Zimbabwe would dip to rehabilitate the "Biera Corridor" devastated by RENAMO rebels. Nigeria, because of its readiness to give materialsupport, was thus accorded the status of a "Frontline state."
In the spirit of "building bridges" across the continent, and of being its neighbours' keeper, Nigeria shared its electricity with Niger Republic. In 1990, another line, the Maradi-Katsina connection came into being. Nigeria picked up most of the bills in joint ventures with Chad, Equatorial Guinea, and Republic of Benin. In Benin Republic, when the Mathieu Kerekou government found it difficult- to pay teachers' salaries, Nigeria saved them the headache. The country has continued to carry the burden of the Economic Community of West African States, the 16-member sub-regional outfit aimed at promoting economic integration. Many of Nigeria's neighbours, from the drought and crisis-ridden Chad, other forms of material gifts could not shore the dictatorial government of Samuel Doe, Nigeria bankrolled ECOMOG, an acronym for the ECOWAS monitoring group to contain the carnage in Liberia. Nigeria supplied at least two-third of the troops and materials. Nigeria would later in the year launch a Liberian rehabilitation and reconstruction fund which according to President Babangida would carry foreign polity goals to the level of the nations' grassroots by involving all Nigerians in making sacrifice in the cause of African regeneration and peace enhancement. This turned out to be long coming as crisis spilled over to Sierra Leone and Nigeria was once again on a fire brigade mission in the beleaguered country.
Criticism
It is said that one of the reasons Yakubu Gowon was removed from office had been the squandering of Nigeria's resources in such far-away lands as Grenada and Guyana, with no returns, economic or political for Nigeria . The capacity of Nigeria to be its brother's keeper was questioned by internal elements who feel that Nigeria itself needs as much help as it gives. They have their reasons. Many oil producing communities in the country live in dark ages. Said the Daily Times in an editorial March 7, 1990; "Our greatest outward thrust should not exceed the ECOWAS sub-region. Even at that, we must for all time jettison our erstwhile Father Christmas syndrome and confront the unsavoury reality that we are first and foremost a poor country with resources that are mostly potential and a multitude of mouths to feed and cater for."
President Babangida countered this argument for Nigeria's vision to be solely for its territorial boundaries, calling it grossly and historically short-sighted. "We are building enduring institutions that will effectively integrate our economy with those of our neighbours," said he. Of course, Nigeria's vision should transcend its boundaries. In an increasingly interdependent world, a country cannot be an island[ii].
[i] Dictionary.com
[ii] TELL January 10, 1991