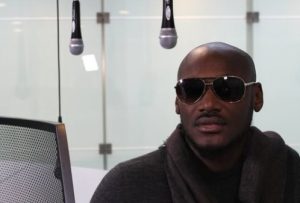 Innocent Idibia; Popular Nigerian musician. Born September 8, 1975 in Jos  into a middle-class family in which he is second of four boys, Innocent Idibia had a modest upbringing, Michael Idibia, his father, was a career civil servant who retired as an assistant director in the Benue State Ministry of Agriculture. Rose Idibia, his mother was a teacher all her professional life. She taught fine arts at the Loyola Jesuit College near Karu in Abuja. The Idibias hail from Amufu in Edumoga, Okpokwu Local Government Area, Benue State. Innocent Idibia was privileged to have been the first African musician whose musical video was aired on MTV's 1000th station. As a child he was impacted by Christian Igbokwe's Omo mi seun rere which he considered authentically Nigerian[i].
Idibia's pleasant personality and talent worked in his favour. His deft voice inflections and stage presence, even with minimal dance, are a delight. He displays mastery and originality when he raps. His language is punchy but not raw. All these combine to make his music and person appeal to both the old and the young. Idibia is also a very handsome young man as his mother proudly and passionately asserts. All his female fans agree on this. For many of the ladies, especially the very young ones, he is like their dream man and they throw themselves at him at the slightest opportunity. It is little wonder then that the singer displays a weakness for women.
Idibia went to the Institute of Management Technology, IMT, Enugu where he studied mass communications at the National Diploma level. At IMT he consolidated his friendship and partnership with Austin Ahmedu (now Black Face) a fellow Idoma boy. Together with a third friend Chibuzor Orj I (now Faze), who hails from Delta State, they formed the group known as the Plantashun Boyz. They made a demo tape recording, putting in the best of musical stuff they had to offer, with little financial support here and there.  Idibia was a major factor in Plantashun Boyz, thanks to his dexterity in spontaneous solo renditions and imaginative rap. Obviously there was hardly anyway the other two in the group could have held out with the vacuum of his exit. But Faze and Black Face did not fair badly either as they increasingly made their presence felt especially in Nigeria.
In 2004, Idibia under the freshly- minted stage name Tu Face released the album Face 2 Face on the Kennis Music label. With this album he was let loose on musical entertainment within and beyond Nigeria. Thanks to a comprehensive marketing strategy by Kennis Music, the album sold in millions. With such household tracks as African Queen and Mfina Ibagha, it presented quintessential Idibia which has left his most enthusiastic fans begging for more. Idibia's musical act with Kehinde Ogungbe's business savvy combined to give branding and marketing a new face in Nigerian music. The label released Tuface's debut titled Crass to Grace, which became an instant hit. Kennis Music projected TUface's image and arranged shows for him in major cities in the world[ii].
A glamorous biographical video documentary was produced by Kennis Music on Idibia and pushed into the market. The sale of the video seen as an inventive strategy deriving from trends abroad, rah alongside high pitched sales of his album proper. Ogungbe is seen as many things to Tu Face at once: producer, "executive manager," godfather and perhaps to the singer's father, "a caretaker' to his young son. "I thank Kenny Ogungbe. He has done great with my son," he said. At every opportunity and forum, Ogungbe puts in a word in praise for his biggest 'catch.' He confessed to being wary of giving all the hype to TuFace, as he is not the only musician on the company's contract list. "I felt like a father that is very proud of his son and I thank God," Ogungbe said at an interview in Lisbon, Portugal in November. He had accompanied the singer to receive his latest award as the Best African Artiste at the MTV Europe Music Awards. As should be expected Ogungbe was in the forefront of the worldwide campaign to pool-in-on-line votes in Idibia's favour. He became a regular face on Ben TV, a UK-based independent television station with afrocentric bias, in this regard. He also adequately used his co-anchored TV show, Primetime Africa for the same purpose whilst the
Beyond the dint of hardwork the lines of fortune have no doubt fallen unto Innocent Idibia in pleasant places. Outside entertainment, even in political circles he has been accorded recognition. In February 2005 when brigands broke in on him in his Festac extension home in Lagos and left him injured, vice-president Atiku Abubakar personally wrote him a letter. Atiku sympathised with him and the Idibias home at Abuja. wished him speedy recovery. Many of his fans, old and young were touched. Idibia quickly recovered, left hospital and got back on stage. He continued to use his signature slogan Nothing dey happen. Earlier in 2006 Idibia made a star appearance in a high profile commercial for Guinness extra smooth. It was an instant success as not long after people were asking waiters in pubs to serve them "one Tu Face!" Idibia has also ventured into films but he doesn't score high in acting. In The Twist, a Future King production, he played alongside Emeka Enyiocha and Carol Ekanem in a tale which saw him have an incestuous affair with his sister, unaware of her true identity. In the more recent Flying Without Wings, from the Andy Best stable, he was cast in the supporting role. He played a naive conscript to a life of gangsterism. He played the hatchetman under the watchful eyes of a ruthless boss played by Desmond Elliot. Tu Face is respected by other renowned artistes internationally. He has struck a personal friendship with Haitian- born superstar, Wyclef Jean. The two artistes did a musical collaboration for the track-/ 'm Proud To Be African, also featuring Faze and Sound Sultan, another Nigerian hip-hop act. He did another with popular Jamaican-American sensation, Benie Man. Shortly on return from Portugal he gave a hint that he had overtures from megastar. Madonna, with regards to a proposed duet. There are indications that Idibia is making in-roads into the global broad- based music market. He has had audiences with the president of the music recording and marketing giant, EMI Records, as well as with Sony Music. He has also had a discussion with the president of MTV Worldwide. Idibia has done shows for the global music network around Africa[iii].
[i] Newswatch September 5, 2011
[ii] The News, March 31, 2008
[iii] Newswatch January 16, 2006