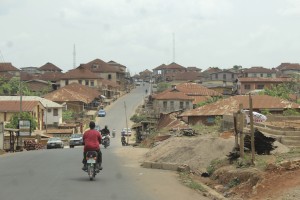 Ilesha is a town in Osun state, a little over 100 kilometers from Ibadan, and historically populated by the Ijesa people, a subgroup of the Yoruba who were one of the earliest migrants from ancestral home at Ile-Ife. Ilesha, meaning in one account, ile ti a sa, translating as "the home that we choose" is known as the center of a territory having deposits of gold.  A long street running through its spine hosts an International Brewery, and serves the Ilesha Grammar School that was the Alma mater of many distinguished Nigerians. There is also a Teacher Training Institute, and a subsistent cocoa, palm kernel, and cotton industry.
Ilesha is the center of Ijesha kingdom which includes Ipetu Ijesha, Esa Oke, Osu, and some other two hundred smaller towns and villages. The people, originally from the Obokun district in the cradle of Yoruba civilization, Ile-Ife, were used for human sacrifice. Under the leadership of Owa, who was a junior member of the Oduduwa dynasty, the people moved to their present abode, establishing therefore one of the oldest Yoruba kingdoms descended from Ile-Ife. Ijesha people are known for their skill in trade, and have invented the Osomaalo system which involves installment payment of purchased wares.
 
Old Ilesa
Ilesha of the mid-19th century was described in William Clarke's travel account as "surpassing Ilorin in size, population and in the strength of its defenses." Hinderer supposed its extent is "perhaps next to Ibadan." Ilesha was a well-fortified town surrounded with walls at least 15ft. high and about 6 ft. thick, with a trench around of about 20 ft. in depth. This stability and strength goes back to the reign of Atakumosa in the late 17th Century- and Ilesha men of war even ventured to expand their kingdom to parts of Ekiti in the 18th Century (an opportunistic move as the bigger Ibadan army was then preoccupied with a military campaign at Ijaiye).  When marauding Ilorin warriors came knocking, Ilesha had a protector in the allied armies of Yoruba kingdoms which fought under the leadership of Ibadan. In 1854 Ibadan took the kingdom of Ijesha for itself, subsuming it under its imperial power till about sixteen years when  the people joined Ekiti in a war led by Ijesha warrior, Ogedengbe.
A peace accord reached under the supervision of British colonial power in 1877 brought Ilesha, and other Ijesha towns under the British protectorate. In 1900, the town was made the administrative capital of the Ijesha/Ekiti Local Council which comprises present Ondo and Ekiti states of Nigeria. This proved to be too weak a union, as the cessation of wars rendered their comradeship redundant. Ilesha fell under Osun state when it was created from the old Oyo state in 1991, that was in turn taken form the Western state in 1976. The greater town, with a population of 210,141 in 2006 census lies in the intersection of Ile-Ife, Osogbo and Akure. Erin Ijesha Waterfalls that is only 25 km away is a popular tourist site.
 
---
Hotels in Ilesa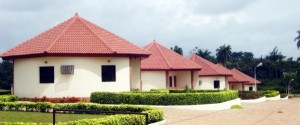 Zenababs is a holiday resort offering 40 rooms to tourists and individual guests specifically. Zenababs Half Moon Resort is situated in the historic Ilesaland. It features the games village, boating lake, animal reserve and a stream for fishing, a restaurant, a swimming pool bar and an events center.
Contact: Prince Oladele Olashore Way, Ilo Aiyegunle, Ilesha