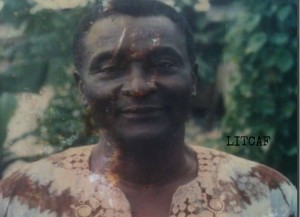 IKOKU Samuel Goomsu; Socialist and first republic opposition leader in the Eastern House of Assembly. Samuel Goomsu Ikoku, together with intellectuals like Rotimi Williams, Anthony Enahoro, and J.S. Tarka formed the radical wing of the Action Group party which on the mandate of Obafemi Awolowo, sought to remove the ethnic colouration which it wore and make it a national party[1]. In 1960, the party, apparently due to Ikoku's effort, adopted the platform of democratic socialism. His behavior in over forty years in Nigerian politics dictated by anti-imperialism, crept up a new notch with his approval of the unpopular General Sani Abacha's regime.
As a child, Ikoku slowly developed his own ideas, with a seeming intent to think beyond the precepts of his own father, Alvan, who was one of the fathers of the Nigeria that emerged in 1960. In the school founded by his father, he led a protest against authority for the quality of food served students. As a student in Britain he countered his father's position about the colonial government of Nigeria sending aid to the British nation newly devastated by the flood incidence of 1946. Like his father, he was a trade unionist. Months into his appointment with Unilever conglomerate in Nigeria, he had thrown himself into the struggle for workers' right. But he was faced with disappointment on many sides.
Ikoku opposed the secessionist view during the civil war, and was part of the Nigerian delegate to Addis Ababa, the last stroke at peace where Ojukwu announced only at the war front could settlements be made. His post-war attitudes which was unreservedly conciliatory towards the people of his stock pitched him against old comrades and led to his resignation from his position as Commissioner for Economic Development and Reconstruction of the East Central State in 1973. Finally in 1978, he parted ways with his leader, Awolowo, who because of his acceptance of an ethnic leader title, failed to live up to his own ideal of the national leader he wanted him to be. Ikoku participated in subsequent democratic government of Shehu Shagari but spent most of the military regime of General Muhammadu Buhari in incarceration. Owing to his anti-imeprialist posture, Ikoku was neither an admirer of 1993 presidential aspirant, MKO Abiola, nor a believer in the legitimacy of the result which presupposes his victory. He offered himself for the same reason to the service of General Abacha's government, which fits his vision. Contrary to the general view of adverse analysis, he is said to have died without owning a house.
 
Origin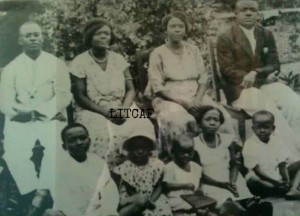 Samuel Goomsu Ikoku originates from the Amanangwu village of Arochukwu where his grandfather, Ikoku Adim lived as a wealthy trader in Palm Oil. His marriage to the daughter of his business affiliate in Calabar, Coco Otu Bassey produced a single child, Alvan. In his eighteenth month Alvan was taken by his mother to the home of her own parents in Calabar during the Arochukwu War of 1901 in which the recalcitrant people of Aro was punished for capturing worshippers of its oracle, called the Long Juju, and selling them into slavery. There he grew up and learned to be a teacher, before obtaining in 1928 the University of London B.A. in Philosophy. His first son with his wife, Goomsu was Samuel Goomsu Ikoku.
Places of Growth
Samuel Goomsu Ikoku was born 24 July 1922 at Igbo Amabani near Itigi in present Cross Rivers State. The first two years of his life was spent at Ikot Inyang near Itu before his family moved to the premises of the St. Paul's Teacher Trainig College in Awka where his education began. When he was eight years old, S.G. Ikoku was sent to Duke Town School in Calabar. From there he went to the Aggrey Memorial College, a school that was established by his father in 1932.
Childhood
Goomsu may have been influenced by his father's scholarly bearing as a child. Asides being a choir boy, there was not much drama to be called to mind. He took interest in sports and played both tennis and football quite well. Goomsu read avidly and smuggled revolutionary literatures his school wouldn't permit, to class, including Nnamdi Azikiwe's West African Pilot. He entertained himself by the British Broadcasting Service commentaries of war which greeted Adolf Hitler's pogrom. The fight for freedom chant was a familiar sentiment to him. He had tried a little fight of his own at school when pupils complained about the poor quality of their food.
Relationships
Family
Goomsu was the first child of Alvan Ikoku, educationist, trade unionist and politician. Among his siblings, including Prof. Chimere Ikoku; Vice Chancellor of the University of Nigeria 1985-92, Dr. N.B. Ikoku who migrated to England, Chinyere Ikoku also a professor. In 1949 after returning home he married an English girl, whose acquaintance she had made during studies, Eileen Sandwell. He would later try marriage a second and third time.
Contemporaries
Ikoku made acquaintance of police head, M.D. Yussuf, who would become friend for the rest of his life, in 1966, during investigation into his involvement in treasonable felony. From 1953 to 1978 he was an ally to Awolowo, and he served after the Civil War in the cabinet of Ukpabi Asika, military Head of the East-Central State. Kinsley Mbadiwe, who had attended his father's Aggrey Memorial as a child, described as political earthquake, his decision to dump populist Aminu Kano's People's Redemption Party PRP for the party holding the federal government, the National Party of Nigeria NPN in 1983. Very briefly therafter, he served under President Shehu Shagari as adviser on National Assembly affairs. Ikoku was a confidant of General Abacha, whose unpopular regime, he defended in his written arguments.
Affiliates
Ikoku was the Secretary General of the Action Group. He helped articulate in 1978 the ideals of the PRP, of Aminu Kano. Shortly after he allied himself with the party at the center, President Shagari's NPN.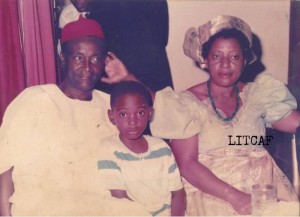 Education
Goomsu studied in Achimota College in Ghana for the intermediate Bachelor of Arts of the University of London. After this he won a scholarship to study at the Southampton University College, London. In two years he bagged the bachelors degree in Economics and finally in 1949 a masters degree from the London School of Economics.
 
Travels
After three years stay, Goomsu left Ghana in 1943 with a pleasant impression of the people whom he described as warm and serious minded. To Accra he fled in 1962 after declaration of a State of Emergency in the western region and the hunt for him as party's Secretary General. In Accra, he became a member of the inner-cabinet of Ghanian President Nkrumah. As Nigeria's wartime ambassador-at-large in France, he rallied the intellectual class of Paris to dissuade opinions for, and avert impending recognition of the breakaway state of Biafra by the French government.
Unionism
On 18 November 1949, the mutual distrust between Enugu mine workers who advocated for wage increase and the colonial government degenerated into confrontation which ended in the killing by the police, of a score. Ikoku was appointed to the advisory of a scholarship board set up to cater for the children of slain miners. He helped smuggling kids across the Nigerian boarders, who were denied visa by the colonial government who felt slighted by the involvement of German, Eastern Europe, and the USSR trade unions. Ikoku resigned his appointment as a civil servant to attend the all–important Paris conference of the Word Federation of Trade Unions in 1951, but was hounded at the airport on charges of stealing used jute bags. After a politically motivated trial he was jailed at the Broad Street prison in Lagos for nine months.
Unionism was not only suppressed but the politics of self-actualization too. Ikoku became disillusioned by who should have been his hero, Nnamdi Azikiwe, for, according to him, "decamping each time he incenses people with a situation he builds up." Rather than join Azikiwe's popular NCNC, he aligned with more radical nationalists to form the United Working People's Party. Even when this heavily persecuted socialist group dissolved he rather opt for Awolowo's Action Group. Power play in which the group was mired in the Western region where it is strongest devolved into a declaration of emergency rule on 29 May 1962. Having the air he had been marked for arrest along with other key party leaders, Ikoku escaped to Ghana. He recounts twenty years later, his involvement in a plot to transport weapons from Ghana for the purpose of a coup in Lagos, a move which should-be collaborators persistently denied. When President Nkrumah's government in Ghana was toppled in 1966, Ikoku, being the president's ally was repatriated to Lagos where months before, the democratic government have also been halted. He was locked up in Kaduna prison. There the war met him, starting from ethnic cleansing of his kin, but he was kept safe, and eventually released from Kirikiri in Lagos prisons where he had been transferred by the military government of Yakwubu Gowon who appointed him ambassador plenipotentiary to France.
Motivation
Extreme racism of Nazism which Ikoku learned about as a young adult left a lasting impression on him. This dislike of imperialism was intensified with his study in Fabian socialism, and his close working relationship with student Pan Africanists Kwame Nkrumah and Jomo Kenyatta in London.
Accomplishments
Ikoku participated briefly in reconstruction, rehabilitation, and reabsorption of the former breakaway state of Biafra, following the Civil War in 1970.
[1] Ikoku Inside Out, Kelvin Oji & Victor Effik, Ororo Publications Limited, Ibadan, 1997