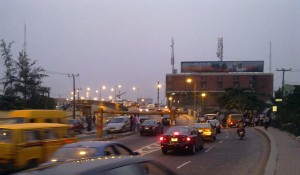 Ikeja is a component of Lagos megalopolis, 20 kilometres north of Lagos Island, serving as seat of the Lagos state government of Nigeria. Ikeja comprises the Ikeja division of the old colony province of Western Nigeria, outside the boundary of the former federal territory of Lagos. Ikeja hosts a large part of the Murtala Muhammed International Airport. Though a big economic and administrative area of Lagos, Ikeja is largely residential. Many expatriate families live in the Government Reserved Area. The lowland expanse of Ikeja is well watered by sluggish streams and the Ogun River overflow seasonally to become swamps, leaving dry patches at elevated areas.
The residential area, Otigba has since 1999 swelled into a commercial centre of over 1000 shops where computer wares are sold. The spontaneity of this development makes the Computer Village, a phenomenon in Ikeja, a difficult but essential place to trade in gadgets. Adjoining the Lagos State Secretariat Complex, Alausa, is the Ikeja City Mall, opened in December 2010 and comprising of over 80 international and local retail brands plus a Cinema. Sandwiched between the districts of Isolo and Onigbongbo is a large military base, the Ikeja Cantonment. In 2002, about a thousand lost their lives in pandemonium that followed the accidental detonation of a large stockpile of ammunition stored at the armour transit depot. The Oregun Industrial Estate comprises of paints, aluminium, pharmaceutical products, cosmetics and drinks manufacturing companies. 2006 estimate of population in Ikeja is put at 313,196.
 

Hotels in Ikeja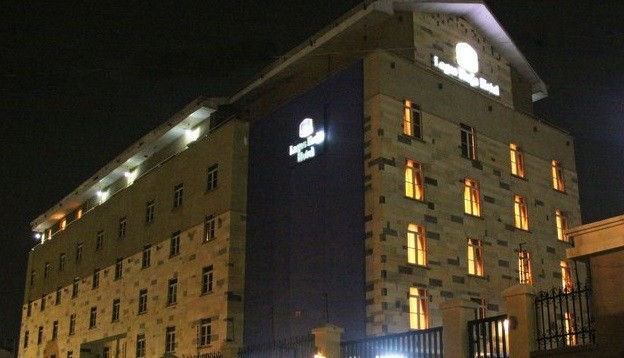 Best Western Hotel, Ikeja is part of the worldwide chains of hotels by Best Western Inc. headquartered in California. There is a Best Western Hotel at the Government Reserved Area and Allen Avenue both in Ikeja. There are Conference facilities, Restaurants, Bars, Laundry and gymnasiums. This four-star hotel is normally frequented by foreign expatriates. There is also a Best Western Hotel on the Lagos Island.
Contact: 12 Allen Avenue, Ikeja Lagos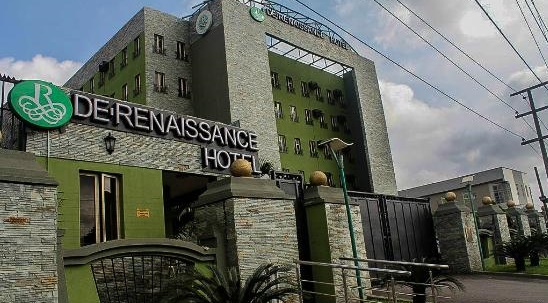 De-Renaissance Hotel, located within the Central Business District in Ikeja, offers lodging to Individual and Corporate guests. Accommodation is classified based on necessity ranging from standard rooms to the Presidential Suite. Amenities include a Conference Center, Restaurant and a Gymnasium. De-Renaissance hotel stands next to the road.
Contact: 172 Obafemi Awolowo Way, Ikeja Lagos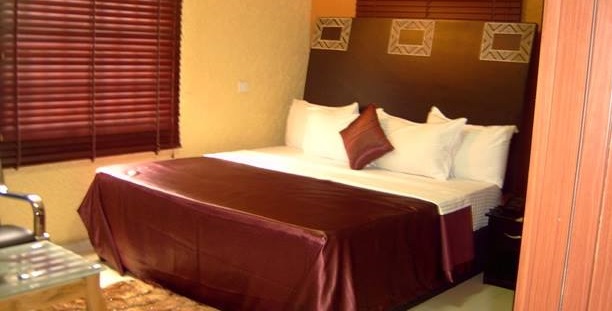 Downtown Royal Hotel situated at the commercial hub of Ikeja offers accommodation services to corporate and individual guests. The hotel, having 20 rooms, features amenities such as a 20-seater restaurant, cocktail bar, executive lounge, laundry service and a foreign exchange center. Rooms are classified into Fab, Deking, Downtown, Vegas, York, Royal and De Star.
Contact: 22 Dipeolu Street, Off Awolowo Way, Ikeja, Lagos.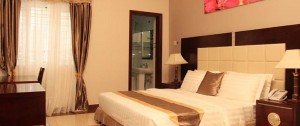 Grandbee Suites, located at the Government Reserved Area in Ikeja, is most suitable for tourists and corporate guests . The hotel comes with amenities such as a bar, swimming pool, restaurant and a gym. Rooms vary from standard to the presidential suite. It is acclaimed to be among the best in the area.
Contact: 31A Joel Ogunnaike Street, Ikeja G.R.A, Lagos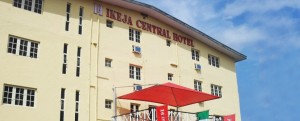 Ikeja Central Hotel is a 32-room hotel offering accommodation services to business and individual guests. The hotel features a restaurant and a laundry. Rooms vary from standard rooms to suites. It is adjudged to be one of the best in the area.
Contact: 6/8 Obe Street, by Ajao Road, off Adeniyi Jones Avenue, Ikeja, Lagos.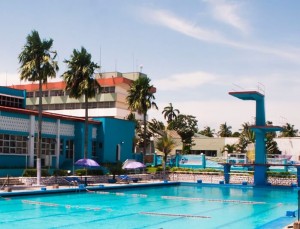 Lagos Airport Hotel is an offshoot of the Odu'a Investment Company Limited. It was established in 1942 and commenced activities with five rooms. Today, the Lagos Airport Hotel consists of 277 rooms. Located at Ikeja Lagos State, the hotel has a health & fitness facility, swimming pool, a supermarket and a casino.
Contact: 111, Obafemi Awolowo Way, Ikeja Lagos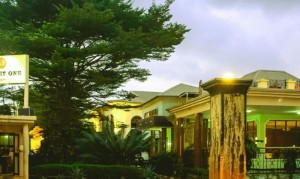 Planet One Hotel is located within one of the business districts in Ikeja. This 4-star Afrocentric themed hotel comes with 56 suites along with restaurants and bars, fitness and wellness club, indoor swimming pool and conference facilities. The hotel offers lodging services to pleasure seekers and business guests and it is reckoned to be among the best in the district.
Contact: 5 Mobolaji Bank Anthony Way Maryland, Lagos.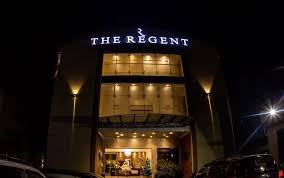 Regent Suites, a boutique hotel consisting of 27 suites is located in the Government Reserved Area of Ikeja in Lagos. The hotel offers lodging services to businesspersons and individual guests. Facilities include restaurant, bar, lounge, conference hall and a store.
Contact: 25 Joel Ogunnaike Street, GRA Ikeja Lagos.
 

 
Sheraton Hotels is one of the hotel chains owned by Starwood Hotels and Resorts in Massachusetts, USA. Its premises in Ikeja Lagos is a 325-room hotel offering lodging services to Business personalities and individual guests. This hotel comes with facilities such as a restaurant, gym, a bar, and a conference center. Rooms vary from classic rooms to suites. The Nigerian hotel is reckoned to be among the best in the region.
Contact: 30 Mobolaji Bank Anthony Way, Ikeja Lagos.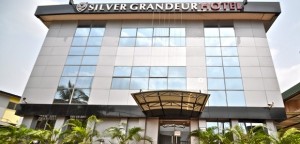 Silver Grandeur Hotel is located just minutes from the Lagos International Airport. If offers 38 rooms to business and individual guests alike. Also, the hotel features meeting, events and conference facilities, and a restaurant.
Contact: 4 Agbor Close off Airport road, Ikeja Lagos.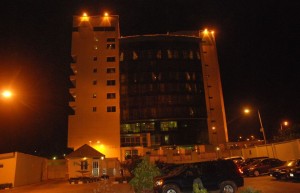 Westown Hotels and Resorts offers lodging services to corporate guests and individuals alike. This 4-star hotel owned by Swiss International, comes with amenities such as three restaurants, a laundry, fitness facilities and a poolside bar. Rooms span from standard to executive suites. It is reckoned to be among the best in the area.
Contact: 1 Ayeni 1010 Close, Opebi Link Road, Ikeja, Lagos.