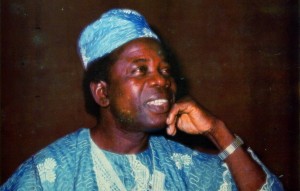 Isaiah Kehinde Dairo, popularly known as I. K Dairo was born January 1931 in Offa town, Kwara State, but his family is originally from Ijebu-Ijesa , Oyo State, before they migrated to Offa. Growing up I.K Dairo attended a Christian Missionary School in Offa, but later dropped out due to financial constraints. His father was a carpenter with the Nigerian National Railway, who resigned in 1937 and took his family, including all of twelve children with him back to his farm in Ijebu-Ijesa. Before leaving, Kehinde's father made a drum for him, which he became so fond of; he wouldn't part with it. On getting to Ijebu- Ijesa, I.K apprenticed as a barber and used all of his free time to play drums. He spent his evenings listening to the early pioneers of Juju music (Orioke, Oladele, Oro and others) in action soon his interest in Juju music increased, and he began to make his own drums using the knowledge he learnt from his father. In 1942, he joined a band led by Taiwo Igese, but after a few years the band broke. For the next fifteen years I.K sojourned through many professions including cloth peddler, road worker, coca farm laborer, construction worker, and carpenter. I.K did all these during the day and played at night with early Juju masters like Ojoge Daniel based at Ibadan.
 
The band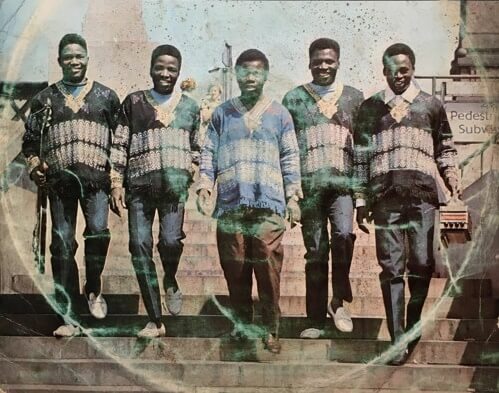 Despite all of Dairo's wanderings, financial success eluded him. He decided to return home, which he did in 1954, with only sixpence, a guitar and his carpentry tools. After settling down, I.K formed a ten member band named, Morning Star Orchestra. I.K and the Morning Star Orchestra began to play at available venues, weddings, naming ceremonies, burials, and so forth soon their reputation grew. In 1961, they were invited to compete with other fifteen (15) other Juju bands at WNBS/TV contest. I.K and the Morning Star Orchestra took first place. This was the beginning of their journey to stardom.
I.K changed the name of his band to I.K Dairo and his Blue Spot Band. They continued to play, and continued to gain fame across the nation and when Nigeria became a republic in 1963; I.K Dairo was made a Knight of Imperial Britain. During Queen Elizabeth's tour of Nigeria, she bestowed upon him the title Member of the British Empire (M.B.E) this made him the first African musician to receive such an honour. I.K's success and fame increased year after year as the band travelled all over the world. I.K and his band represented Nigeria at the Festival of Negro Arts in Dakar in 1965, as well as the World Music Festival in Tokyo in 1972. His band performed widely in Europe and even recorded a couple of songs in one day in London.
 
Father of Juju music
I.K Dairo parted ways with his band amicably and formed another that was far better than the first, but his stay as the number one (1) in the Nigerian music scene didn't last for long, because new acts like Ebenezer Obey and King Sunny Ade were coming up and becoming as popular as he was, soon they emerged as popular acts of the period. This didn't stop I.K Dairo , he continued his music, touring Europe and North America throughout the 70's and 80's. In 1992, he released his final album titled Ashiko, which became number 11 on billboard charts in 1994. In that same 1994 and 1995, I.K Dairo started dealing with the property rights of musicians; he was also a member of the Ethnomusicology department at the University of Washington, Seattle. I.K Dairo is known as the "father of Juju" today, because of his contribution of establishing Juju as the premier music of Nigeria, being that highlife was the most popular form of band music in Africa at the time. He changed the tenor of Juju, by introducing the accordion and Talking Drums as well as singing in different dialects, which widened the appeal of the music.  I.K Dairo died 1996 at age 65 in Efon- Alaiye near Akure due to hypertension and complications from diabetes.