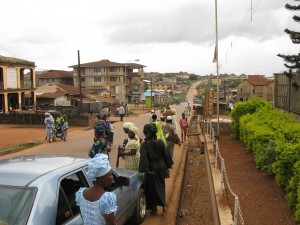 Ijebu Igbo is a town in Ogun state and headquarter of Ijebu North Local Government, about 20 kilometers north of Ijebu Ode. Also the site of a state polytechnic named in honor of statesman son of the town, Abraham Adesanya. Agricultural products such as cocoa, coffee, kolanut, yam, and cassava are the source of raw-materials for agro-allied industries which in turn create employment for the people, giving their slightly over 100,000 population town a blend of urban and rural characteristics.
Ijebu Igbo was established when its founder, Ademakin, later known by the title Orimolusi, relocated to the wild, away from Ijebu Ode to forestall the competition that was rife by hunting with friends from the town. The title of the Oloja of Okeshopin, assumed by his descendants, attained primacy in Ijebu Igbo during the years of disillusionment by the fiat of British colonial Travelling Commissioners. Before this time, there were five quarters, Okeshopin, Atikori, Oke Agbo, Japara, and Ojowo each with heads called Baale including the Oloja of Okeshopin who is the primus interpares.
Ademakin's clear-headedness will pass to a descendant, Abraham Adesemowo, several decades later, who, though illiterate, cleverly promoted the status of his district under the British colonial rule, with the backing of the Ijebu Igbo patriotic society formed in 1915 to enhance cooperation among the five quarters of the town. Ijebu Igbo attained the status of a Sub-Treasury in 1939 and by the end of the following year, a council to help in the effective running of the Ijebu central administration has been formed which transformed to a completely independent Native Administration in 1948.