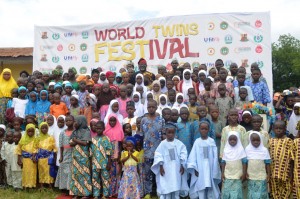 IGBOORA is settlement in Ibarapa Central Local Government of Oyo State reputed for a long time to have had the greatest number of twins in the state, as every household can boast of having at least one set of twins. Igboora is also believed to have the largest number of living twins in the whole world and there is hardly any household without a set of twins. In a study by Sierra Leonean gynaecologist Patrick Nylander, three sets of twins were reported born in every 19 births[i].
In c.1786, a group of six tiny settlements , Iberekodo/lgbole, Iberekodo Odan, Pako , Sagon, Lagaye, and one named Igboora decidedly merged to form a single unit called Igboora.  The name was taken from "Igbo", where the people first settled, and "Ora", wife of Lajorun, the founder of the first Igboora. Lajorun named the settlement after his wife by hyphenating Igbo with Ora without the mark of hyphen, hence Igboora. Olupeti, the said wife of Lajorun was the daughter of Baba Aso who founded the closest Igoora settlement  to the expressway. Lajorun moved from Ikole, he was the son of the daughter of Alaafin Ajago. The daughter of Alaafin Ajago moved from Oyo He to Ikole, she had two children- Lajorun and Lajomo.
The people of Igoora were scattered more than once by intermittent interruptions of tribal wars – the Dahomey war; the Fulani war, and the Egba war. Often they came back from their places of refuge. The first to so do, Lajorunhad his own settlement growing in population and political authority. Lajorun was consequently recognized as a prince. Annual rituals of sacrifice is committed to the founder of  Igboora, Lajorun as a way of remembering his gallantry in an annual festival which attracts indigenes of the town at home and in the diaspora.  Rulership alternates between two families by declaration, but up to five lays claim to it. The first beaded crown in Igboora was won by a scion of the Atambala ruling house which was the first. He was first installed as Baale in 1976 and crowned Oba in 2007.
Igboora shows some development in education and health. There is the International Research Centre, which is patronized internationally, including by universities in Poland, Netherlands, Britain, America, and Russia. The University of Ibadan in collaboration with the Oyo State government  takes charge of this institute which makes research into medicine and health care, community medicine, primary health care, preventive medicine, and maternal care.  Also, Igboora boasts a number of parimary schools with large patronage and a robust teaching staff. Secondary schools were built by community effort a dozen times. There is also a College of Agriculture. Many facilities in Igboora were built through communal effort, including a post office and a veterinary clinic[ii].
[i] BBC News September 13, 2002
[ii] Westerner May 18, 2009