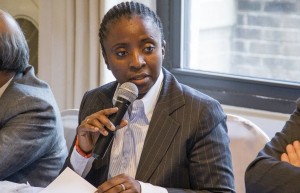 Ifueko Omoigui-Okauru; Tax practitioner and accountant, Chairman of Nigeria's Federal Inland Revenue Service, FIRS during President Obasanjo years. Ifueko was the first female professional staff hired by Arthur Andersen, a leading accounting firm in 1983, rising through the ranks to become the first female professional manager as well as the first female national partner. As federal tax manager, she introduced a new system of receiving and remitting taxes through automation. Omogui shifted emphasis from income to consumption taxes effectively slamming indirect taxes on Nigerians[i].
Childhood
Ifueko is the third child of a family consisting of seven, including her parents who were civil servants. She got a scholarship from primary five which continued through her secondary school. As the only girl of five children she never got to be treated differently from her four brothers. And parents made effort to encourage positive attributes for a child which was not widely considered typical of a girl child at the time.
Places of Growth
Ifueko started with the Corona Crèche in ikoyi, Lagos. From there, she went to St. Saviour's School, Ikoyi. She was also at a Catholic primary school, St. Mary's Private School in Lagos Island that though a lot of discipline. From the age of ten, she spent less time at home, and came under the influence of the celebrated principal at Queen's College, Efunjoke Coker[ii].
Education
Ifueko finished her first degree at the University of Lagos in Accounting. She got her master's at the Imperial College, London. After working at the FIRS she went to Harvard University for a one-year Master's in Public Administration.
Experience
Ifueko spent her career's formative years at Arthur Anderson, a prominent accounting firm. There she was for 12 years before deciding to set up her own in 1996, taking the designation of the Chief Responsibility Officer. Ifueko Omoigui joined the Federal Inland Revenue Service in 2004.
[i] The Source September 18, 2006
[ii] Punch November 17, 2019