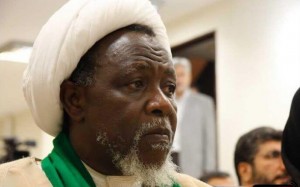 Ibrahim El-Zakzaky; prominent Islamic activist and protagonist of Islamic Republic of Nigeria. Born 1953 in Zaria, Kaduna State, El-Zakzaky went to  Provincial Arabic School, 1969-70; Teachers Training College, Zaria, 1971-75; Ahmadu Bello University, Zaria, 1976. The cleric, El-Zakzaky whose carrier as an Islamic scholar began in 1984 was interned for Islamic Radicalism from 1981-84, again in 1987-89, and 1996-1999 before he was released from detention in Kano[i].
El-Zakzaky's group is accused of appropriating public roads. One of such instances of demonstration and public procession ended in violence with Elzakzaky being arrested by Nigerian troops, following a siege on his Zaria residence. Muhammadu Turi, a top leader of the movement and the head of the medical team of the sect, Mustapha Saidu, and several others were killed during the siege[ii]. El-Zakzay and his wife ultimately gained freedom in 2021. This was not the first time he would lose and regain his freedom. El Zakzaky's  long history of  discord with the Kaduna state government were sown in a petition dated January 28, 1999 which the Islamic movement addressed to Colonel Umar Faruk Ahmed, the military administrator of Kaduna State. The movement accused the state of incitement against it, also complaining that the police have been unfairly brutal against its members. The Shiites' angst, it seems, is predicated on their belief that the alleged attacks on their members, especially since the recent release of their leaders, were predetermined. Basically, the Islamic movement says the content of a letter written by the state government, December 2, 1998, is confrontational.
Content of the said letter strangely found its way to the public domain shortly after Ibrahim El-Zakzaky and others were released. The official letter, signed by Charles Bonat, secretary to Kaduna State government, was addressed to all the local government .chairmen, with a title: "Sensitisation of people, preparatory to the release of Mallam Ibrahim El-Zakzaky." When authorities of the Ahmadu Bello University, ABU, Zaria put measures in place to stop the supporters of El-Zakzaky from worshipping at the ABU central mosque, the Shiittes saw the development as a fallout of the state government's earlier warning. Several hundreds of thousands of people gathered Friday, January 22. 1999 in Zaria for the annual Quds procession. Armed policemen arrived the mosque where the procession terminated in Tudun Wada, Zaria and opened fire. Consequently, a Muslim sister. Malama Halima Umar, was killed[iii].
With the introduction of Sharia in Zamfara state in 1999, El-Zakzaky was of the opinion that the adoption of wholesale Sharia by any state under contemporary constitutional dispensation in the country is unworkable[iv].
 
[i] Newswatch Who is Who
[ii] Premium Times December 15, 2015
[iii] TELL February 5, 1999
[iv] TELL November 8, 1999